There's nothing sweeter than a fluffy and steaming-hot stack of pancakes. These discs of deliciousness are great for breakfast (or lunch, or dinner . . . ), and there are plenty of healthy recipes that are full of fiber, protein, and other vitamins and minerals. These 16 inspirational vegan pancake ideas incorporate tasty additions like fresh fruit and nuts and even include gluten-free options to enjoy. Start with our basic vegan pancake recipe [1], then let your imagination go wild. No matter which way you flip your short stack, you'll be totally and completely satisfied.
Source: Instagram user misssputnik [2]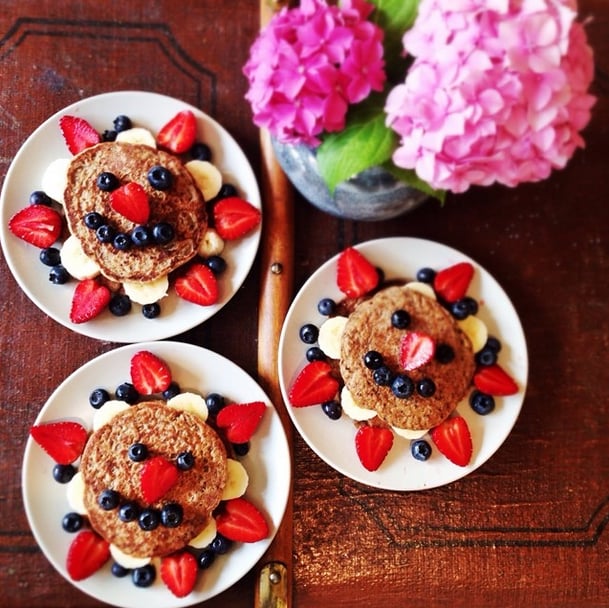 Add chia seeds [3] to your pancakes for added protein and fiber that will help you feel full. Then top your cakes with a smiley face!
Source: Instagram user jellow_ [4]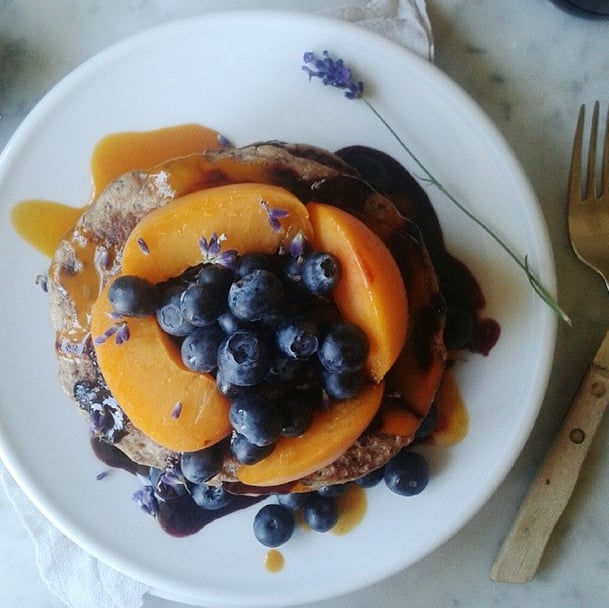 If you are lucky enough to have a garden nearby, use fresh fruits and flowers (like lavender) in your recipe.
Source: Instagram user heartybite [5]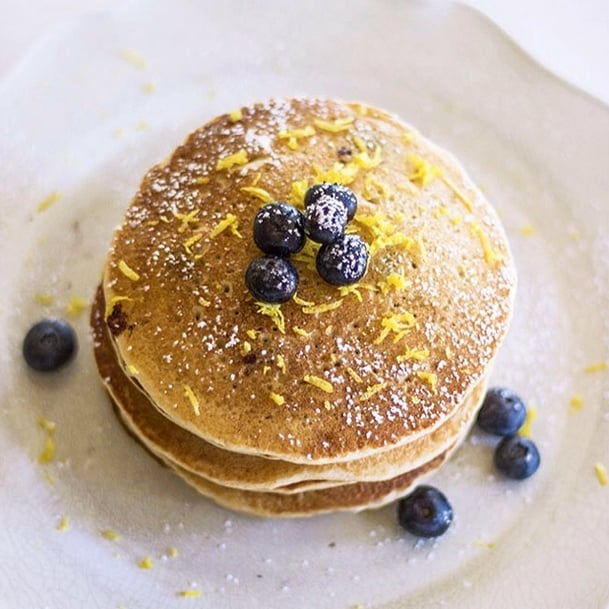 Start your day off feeling energized by using vitamin-C-rich lemons in your pancake recipe. Here's a vegan lemon pancake recipe [6] to try.
Source: Instagram user naturalsweetrecipes [7]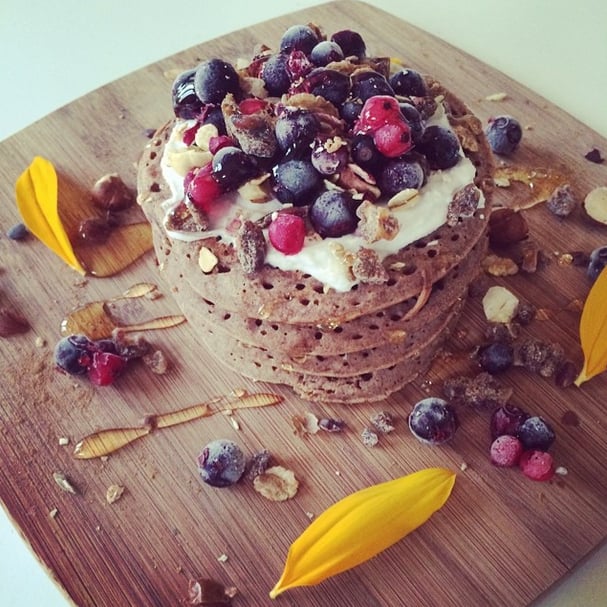 Make your vegan pancakes gluten-free by swapping whole-wheat flour for a gluten-free option like buckwheat flour, rice flour, or almond meal [8].
Source: Instagram user weirdlywonderfulfood [9]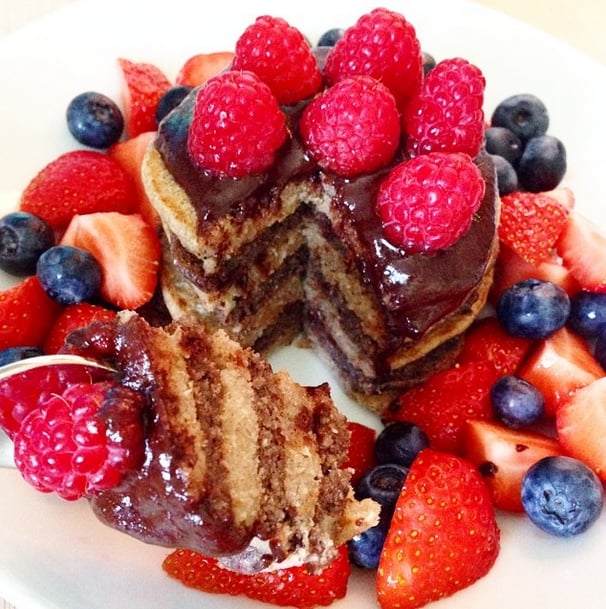 For an extra punch of antioxidants and amino acids, add delicious acai [10] into your batter.
Source: Instagram user thehealthyideas [11]
Topping your pancakes with maple syrup [12] can actually help with muscle recovery and offer essential nutrients like zinc and iron; how sweet is that?
Source: Instagram user the_vegansisters [13]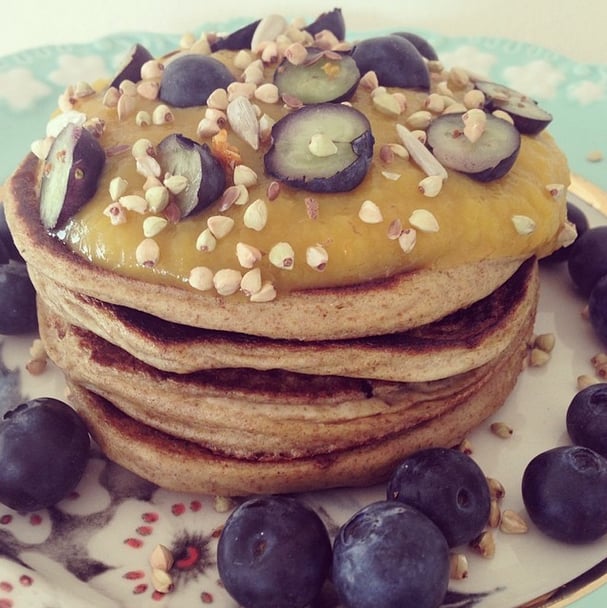 Zucchini pancakes may sound odd, but they sure won't taste that way — plus they offer an extra chance to pack in diet-friendly veggies. This Instagram user whipped up these pancakes using one cup rolled oats, one grated zucchini, four chia and flaxseed eggs (two tablespoons chia, two tablespoons flaxseed, and eight tablespoons water), 1/3 cup coconut yogurt, 1/4 cup hemp seeds, and one ripe banana.
Source: Instagram user pancakesandflowers [14]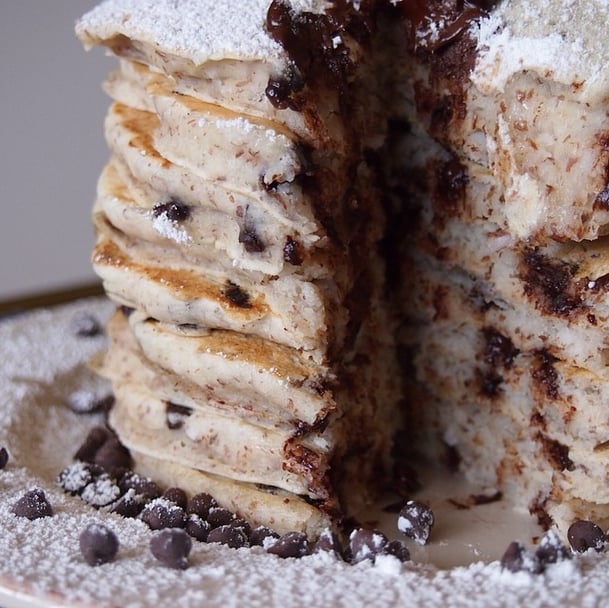 If you have a super sweet tooth, these almond joy vegan pancakes [15] will fulfill your cravings.
Source: Instagram user theheatherjs [16]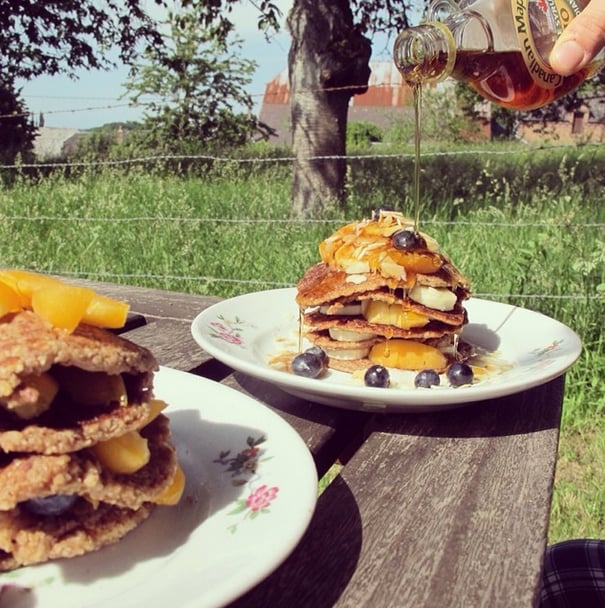 Walnuts add an unexpected crunch plus a healthy dose of protein to these delicious short stacks.
Source: Instagram user holynut_ [17]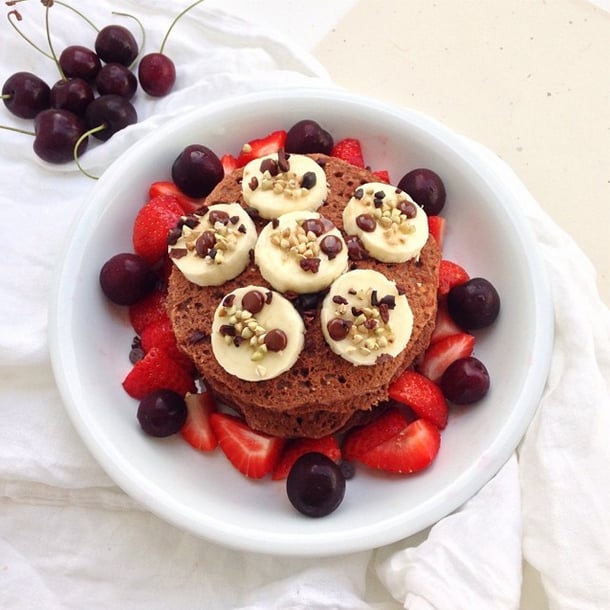 Fight sore muscles post-workout by topping your pancakes with ripe cherries [18].
Source: Instagram user aednat [19]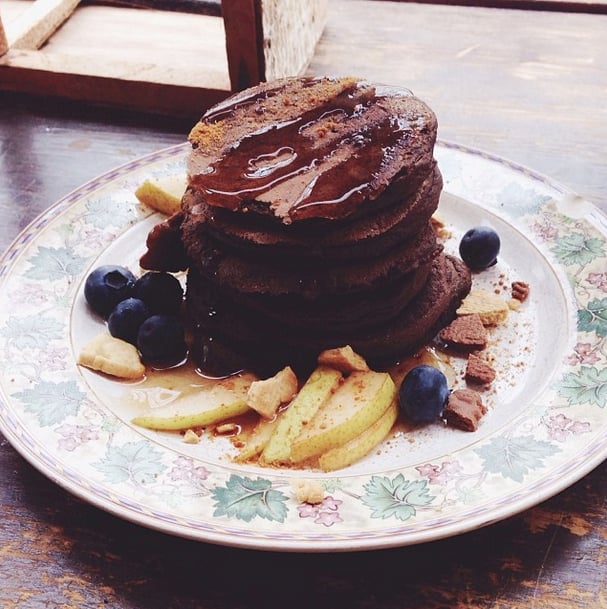 Double your dose of fruit by baking them in your pancakes and munching on more on the side.
Source: Instagram user teaddicted [20]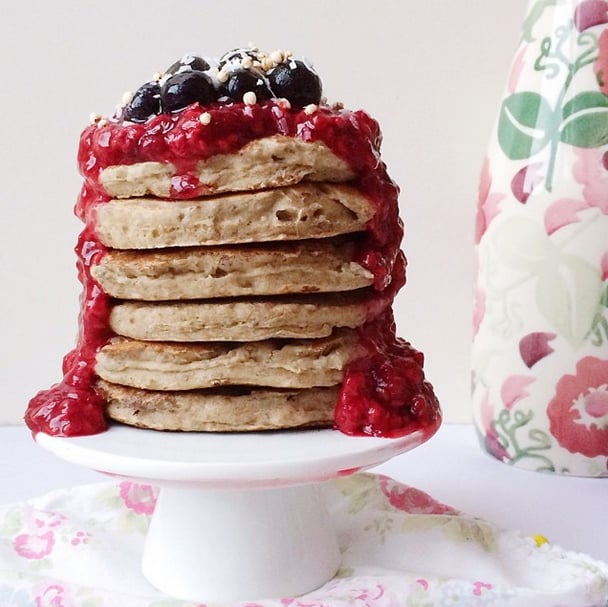 Adding fresh berries [21] is a great way to load up on fiber and antioxidants. Here's a recipe for vegan caramel buckwheat pancakes [22] topped with fresh fruit puree.
Source: Instagram user naturallymeghan [23]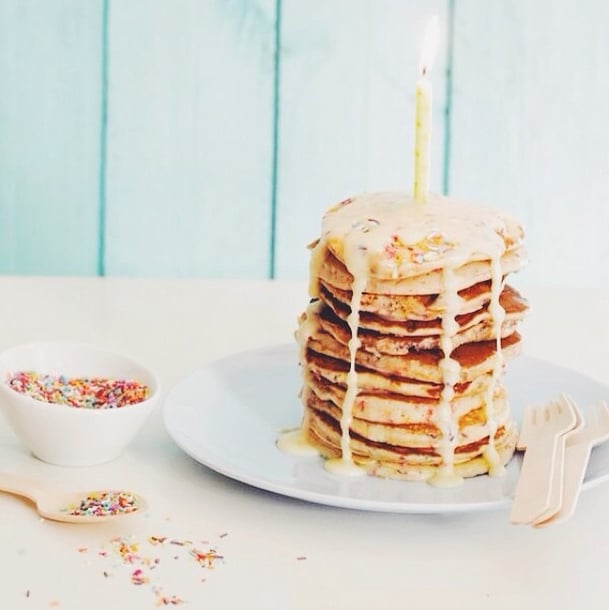 Treat yourself to a vegan version of funfetti pancakes when you have something special to celebrate.
Source: Instagram user misssputnik [24]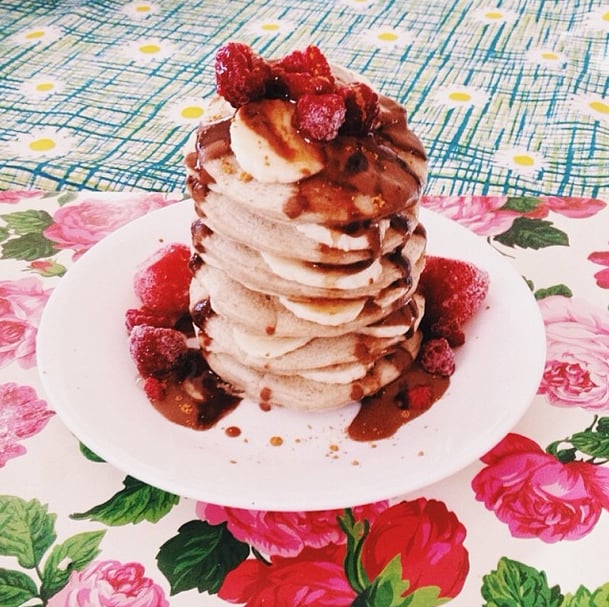 If you plan on sweetening your batter, use agave nectar instead of traditional sugar. Since it's low on the glycemic index, you'll avoid the dreaded blood sugar spike [25].
Source: Instagram user coconutcovered [26]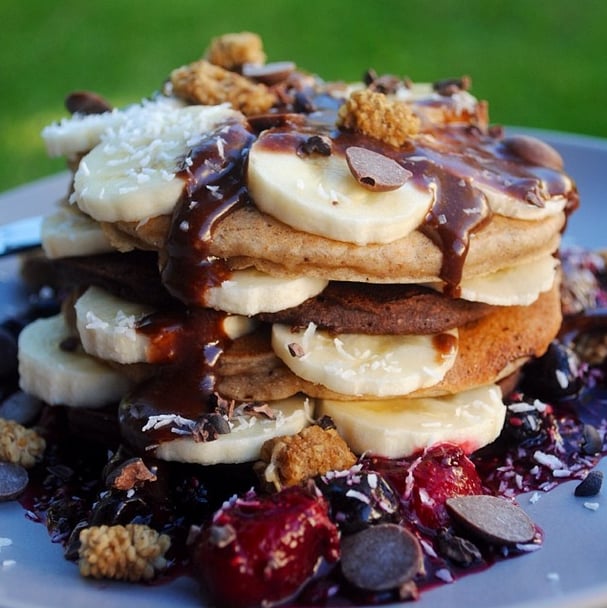 Dark chocolate [27] may seem like a decadent topping but will actually help fight fatigue and help relieve stress.
Source: Instagram user berrygoodvegan [28]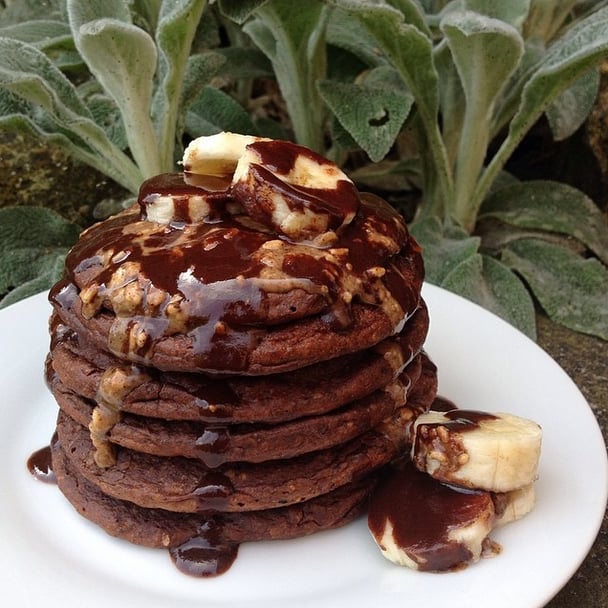 If you love the sweet taste of Nutella, treat yourself and whip up a batch of chocolate hazelnut vegan pancakes. Try a similar recipe for vegan hazelnut chocolate pancakes here [29].
Source: Instagram user purepicks [30]