Best Workouts For Adventures
Wild Workout Ideas For the Thrill Seeker
If you consider yourself a bit of a wild child, there's no reason your workout plan should be mundane. All you've got to do is inject a bit of your personality into your routine. For thrill-seeking folks trying to shake up their fitness routine, there are more options available than ever before.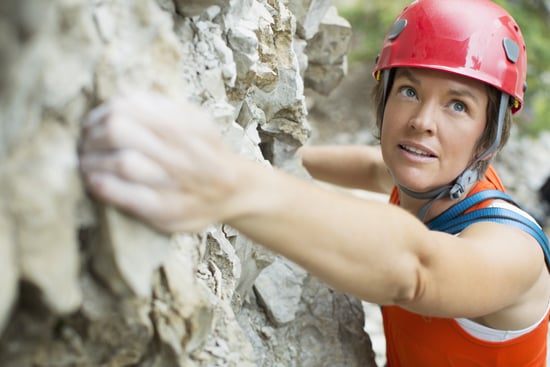 Two to Try . . .
Rock climbing: Hitting up a rock climbing wall is going to test your fear of heights, balance, and strength, but it does much more than offer a full-body workout. Climbing tests your mental boundaries and teaches you valuable life lessons about determination and trust — not always the easiest concepts for a wild child!
Circus arts: Love to go for death-defying feats? Try out the flying trapeze. The first time you go for a swing you'll be amazed how sore your body feels after all this circus fun. The workout requires a huge amount of upper body and core strength, but you'll feel yourself get stronger with every lesson. There's nothing more thrilling than going for your first catch with a partner. Once you've conquered the trapeze, try another one of these circus arts fitness classes.
Two to Avoid . . .
See these workouts after the break!
Treadmill run: Certain folks thrive in the repetitive nature of a treadmill run, but not a thrill seeker! Some engaging music might help, but chances are, you're still going to feel like a hamster on a wheel. Steering clear of traditional gym equipment will ensure your commitment to fitness. Make it fun by heading outdoors for a challenging trail run.
Yoga or Pilates: While something like AcroYoga may be your speed, your standard yoga or Pilates class is just not going to cut it. Both are very introspective activities; there's a ton of breath work, focus, and turning inward required for these workouts. There's also a lot of repetition. It may be something good to try if you're ready to quiet your mind, but for those looking for a wild ride, it's best to take a different seat.