Best Workouts For Clumsy People
Klutz-Proof Workouts Designed For the Uncoordinated
Friends describe you as having two left feet, and you can't seem to make it through the day without tripping. You, my dear, are what the rest us lovingly refer to as uncoordinated. And while a dance career may not be in your future, there are still plenty of ways to keep your fitness routine fresh and free of bumps and bruises.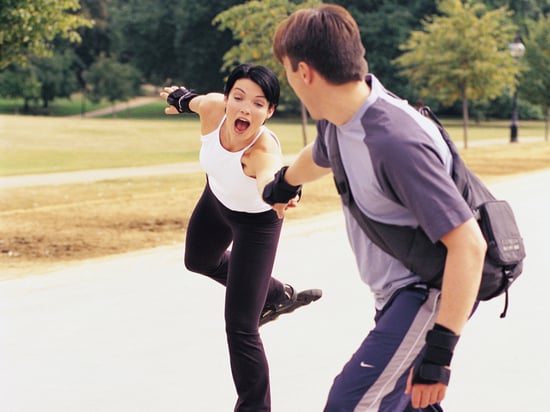 Two to Try . . .
Be one with the machines: When it comes to getting in a good cardio workout, the treadmill, stationary bike, and elliptical machines are your friend. Simple and straightforward to use, cardio machines come equipped with a variety of preprogrammed workouts. All you are tasked with is the same repetitive motion on a consistent surface. Easy, right? Don't be afraid to start off at a slow pace and build from there; before you know it, you'll be trail running in no time!
Head to the great outdoors: Burn calories, explore Mother Nature, and work your entire lower body and core by making regular hikes a part of your routine. Worried that your lack of coordination is going to get you lost in the woods? Don't be! Popular trails are clearly marked and, in some cases, even paved.
And Two to Challenge Yourself With . . .
See these workouts after the break!
Shake your moneymaker: Take a deep breath — a fitness dance class is a great way to work out and, if you're smart about it, won't result with you landing flat on your face. Start slow, and pick a class that has easily followed (and repeated) movements like what you'll find in a Zumba or barre class. Once you get the hang of following counts and memorizing a routine, graduate to something even more upbeat like a hip-hop fitness class, jazz workout, or other dance cardio class.
Can you kick it? If you want a lesson in coordination, then sign yourself up for a cardio kickboxing class. Here you'll be challenged with a fast-paced class that strings together martial-arts movements. You'll be asked to do specific sequences of kicks and punches with very little break time in between. Be patient when you first start out, and don't be afraid to check in with the teacher before your first class starts. Also, check to see if there is a beginner's class offered. You can trust that the more you go to class, the easier it will become.