Best Workouts For Social People
Get Moving With These Social-Butterfly-Approved Workouts
For people who love being around tons of people, a solo date at the gym seems slightly torturous. Luckily, there are now more options than ever to make your workouts social and engaging. Whether you're looking to meet new people or just to get in some good conversation, these workout ideas will inspire.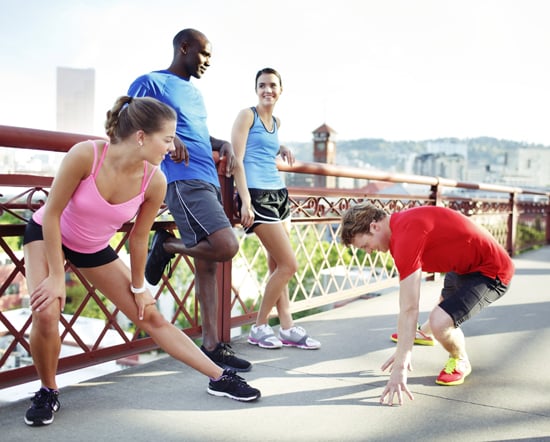 Two to Try . . .
Run for a cause: Working out for a good cause can bring a fresh sense of motivation to a fitness routine. Participating in a 5K for charity will help you connect with like-minded people while also getting you in serious shape. A great way to kick the process off is to join a training group. You'll develop a sense of camaraderie with your fellow runners, and it doesn't hurt to have an set extra eyes making sure you're sticking to your plan.
Play ball: Join an adult league! Whether you were an avid soccer player in high school or you're nostalgic for phys-ed favorites like kickball or dodgeball, start a crew with friends, or research local team you can join. Sounds like the perfect way to get your heart pumping, meet new people, and laugh a lot.
And Two to Challenge Yourself With . . .
See these workouts after the break!
Start running solo: For someone who has always worked out with friends and loves to chat it up, going for a solo run can be an incredible way to clear your head and let things go. Turn on some awesome running tunes, and enjoy the time to yourself.
Turn inward: Yoga can be a huge challenge for someone who is constantly chatting and connecting with everyone around you. It forces you to quiet your mind, breathe, and focus on yourself throughout class. But the icing on the cake? Lots of yoga studios have close-knit communities that congregate after class or hold fun events to switch thing up.