Bethenny Frankel of Real Housewives of New York Shares Healthy Entertaining Tips in March 2010 Issue of Shape
Let a Real Housewife Throw You a Healthy Party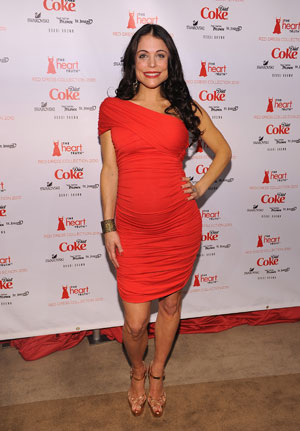 Before the claws come out on the season premiere of Real Housewives of New York this week, Bethenny Frankel plays ladylike in the latest issue of Shape, and shares with readers her top 10 tips for healthy entertaining. "Hosting a party doesn't have to take a toll on your waistline or well-being," says Bethenny, who is six months pregnant. She should know — Bethenny, a private chef, is the author of Naturally Thin and The SkinnyGirl Dish. She's made a career at putting healthy twists onto party foods and cocktails.
Create a signature cocktail. Bethenny says keep calories down by mixing up a batch of your signature cocktail ahead of time. That way people are not mixing with abandon at your soiree. Stick to clear liquors and use lots of ice, club soda, and keep the juice to a minimum. Try adding some vodka to our recipe for this nonalcoholic ginger pineapple punch.
Load up on veggies. Veggies are a great way to add fiber and important antioxidants to any dish, and they help people feel full faster. "I layer red and yellow sauteed peppers on my cheese quesadillas, and blend chopped spinach, tomatoes, mashed peas, or fresh herbs into dips," says Bethenny.
Update old school favorites. Find a classic appetizer that people love and reinvent it with a healthy twist. Bethenny wraps scallops and shrimp in turkey bacon instead of the more traditional version that uses full-fat pork bacon.
Invest in upscale ingredients. Good quality ingredients usually taste better and have a more intense flavor. This is especially true of olives, cheeses, and cured meats. "Guests will feel satisfied with less."
Sneak in whole grains. Whenever you can, use whole grains — "If the topping tastes decadent, no one will feel cheated."
Check out the rest of Bethenny's tips in the latest issue of Shape, which is currently out on newsstands.