Beyoncé's Vegan Diet
I Tried Beyoncé's Vegan Diet For a Week, and This Is What Happened
Image Source: Getty / Kevin Mazur
It is a truth universally acknowledged that I will do pretty much anything Beyoncé does. I kind of live by the rule, if it's good enough for Bey, it's good enough for me. She is the undisputed queen of everything, so why not?! Naturally, Beyoncé is exactly what led me to going vegan for a week. Beyoncé is reportedly going vegan in preparation for her performance at Coachella. Bey and JAY-Z have gone vegan before, using a 22-day meal delivery service to stay on track and crediting their veganism for weight loss.
I was nervous about starting my week of veganism! I'm a meat-lover of the highest order. I love steak and would happily eat a cheeseburger for dinner each night. However, I don't live under a rock, and over the past couple of years I've learned about how detrimental to the environment the meat industry can be. I was excited to take on the challenge to learn about veganism, hopefully help the environment, and, most importantly, be like Beyoncé.
Monday
First day of veganism. I headed to Whole Foods to stock up on some delicious non-animal products. I bought tons of fresh produce, nuts, granola, lentils, and soups. (Naturally I acted like I was hibernating for a whole Winter when it was really just a week!) For my first lunch I had a roasted sweet potato with salad and lentils. It was delicious and I was actually stuffed after finishing. Some of my vegan friends told me that the biggest misconception about veganism is that you can't get "full" — I actually felt so stuffed after my lunch because of the fiber. For dinner I made a cauliflower soup that was pretty good. I spiced it up with a bit of hot sauce, though. Not my favorite thing ever, but satisfying. For dessert, I tried some of the vegan chocolate I had been recommended. The Hu one was so incredible — I ate the whole bar, whoops! I'm sure Beyoncé isn't tucking into loads of chocolate but hey, I'm adjusting veganism to my lifestyle and I have a major sweet tooth.

Image Source: Christina Najjar
Tuesday
Started Tuesday morning off with an enormous almond milk cappuccino from Jacks, and it was amazing. I prefer almond milk to regular milk anyway, so no big change here. For lunch I had a meeting at Fred's at Barneys and was delighted to find a vegan frittata on the menu — it was totally insane. Not only did it taste like eggs (maybe better), but it was so filling because it was packed with vegetables. I was stuffed. Our waiter told us that there has been a steady increase in demand for vegan options and that this was one of the most popular. I would definitely order this again. Despite being super full, I never felt gross or sluggish after eating a vegan meal, I think because everything is plant based it sits lighter in your body. Later that afternoon I headed to Van Leeuwen for some vegan ice cream. It was absolutely incredible and tasted better than real ice cream, and obviously didn't trigger my lactose intolerance. I left with a scoop and a pint for later.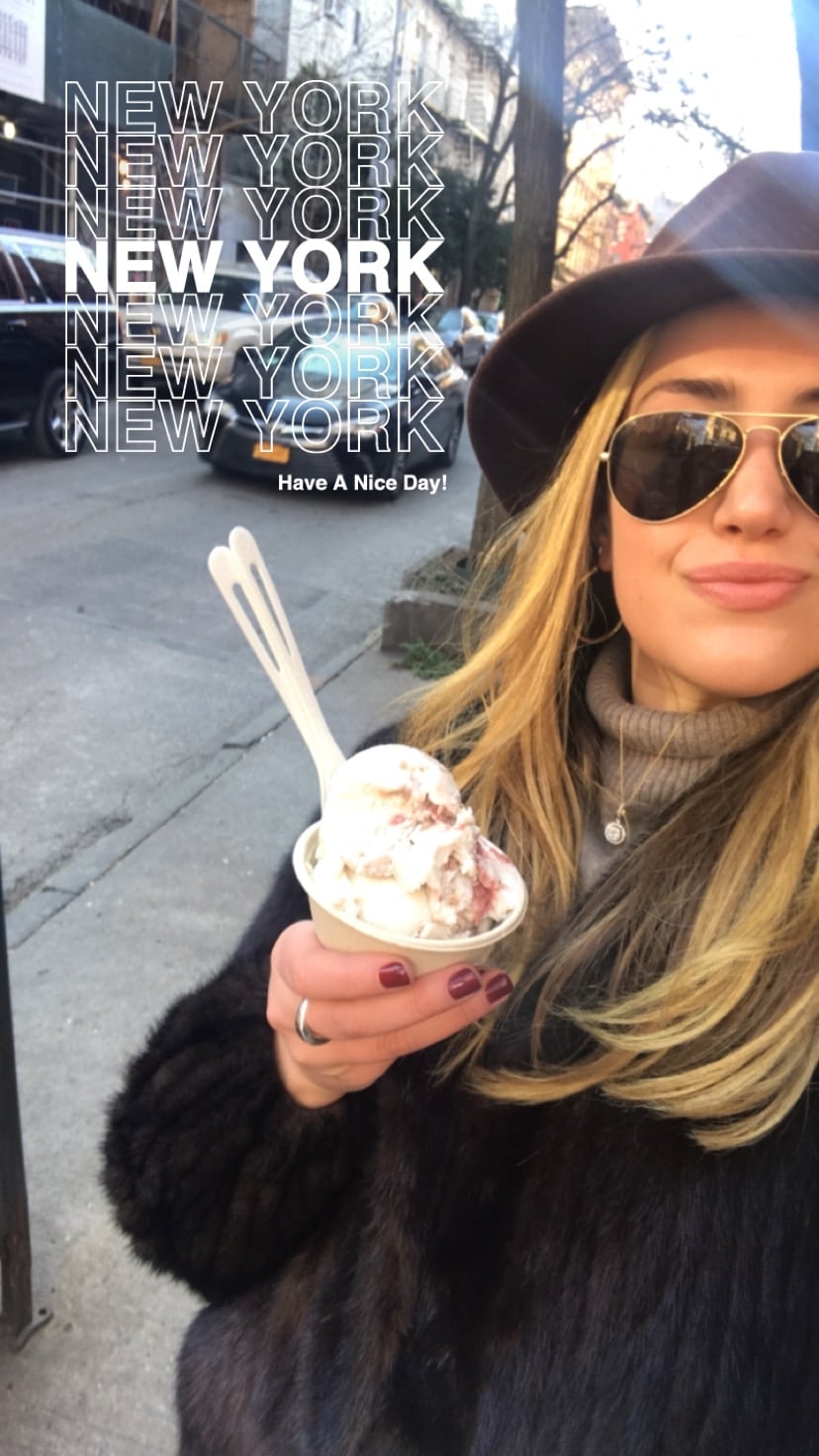 Image Source: Christina Najjar
Wednesday
Hump day! Long, long day. After a quick Google double-check ("Is wine vegan??" YES, sometimes), I headed out to happy hour with a few colleagues. We went to our local dive bar. I'll be totally honest, my usual order here is wings and nachos, which obviously aren't vegan and my options were a little limited. I ended up just eating a bunch of french fries and heading home early to demolish a half pint of vegan ice cream.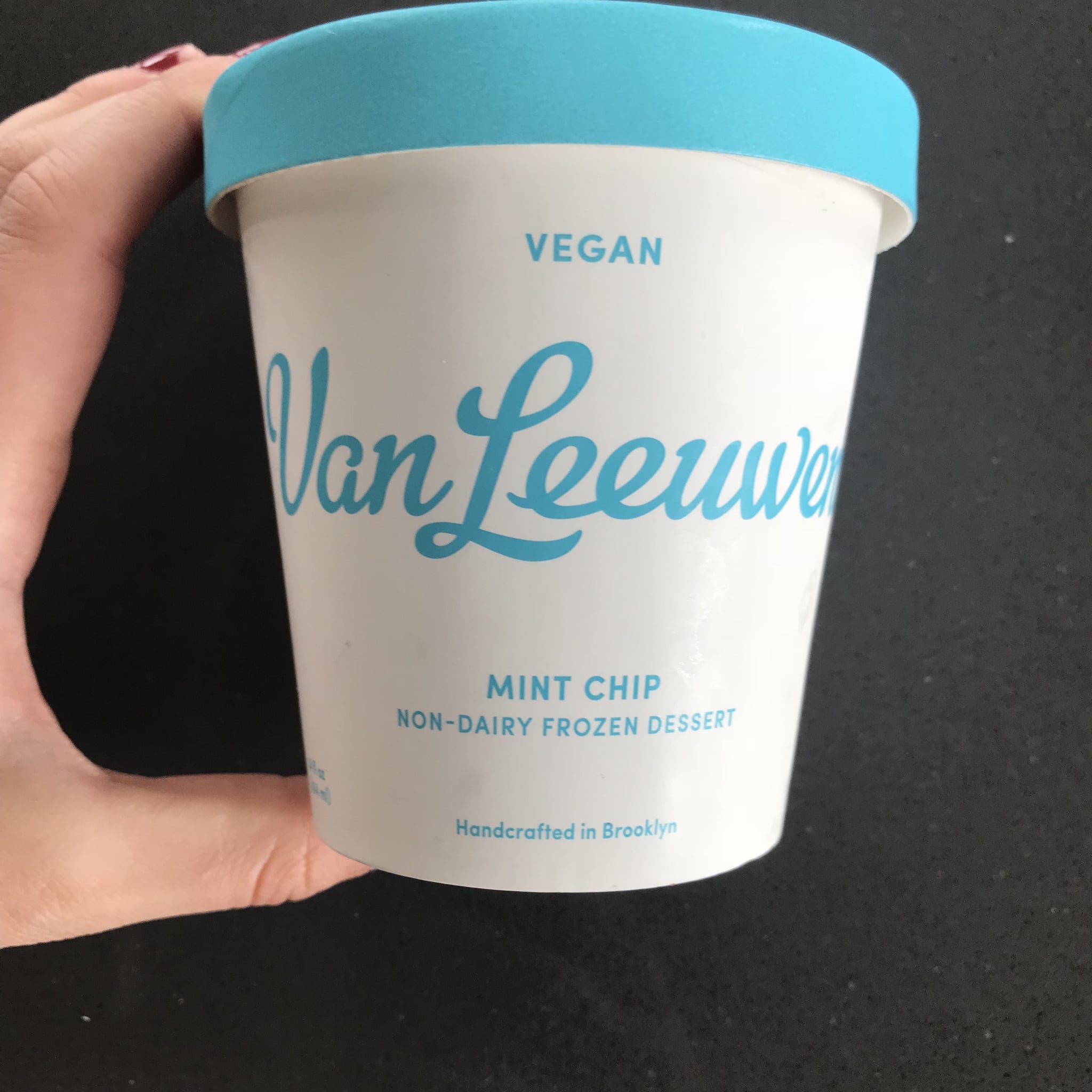 Image Source: Christina Najjar
Thursday
Another lunch meeting — this time I conveniently made it at byChloe, the cult "vegan junk food" chain that always has an insane line out the door. I quickly understood why. The food was absolutely insane and I was blown away that it was all vegan. Think cashew mac and cheese and vegan spinach artichoke dip. I had the spicy seitan quinoa taco salad and I can honestly say I nearly ate the actual bowl, it was so good. The vegan baked goods were also absurd. I left with two cookies and a brownie that changed my life.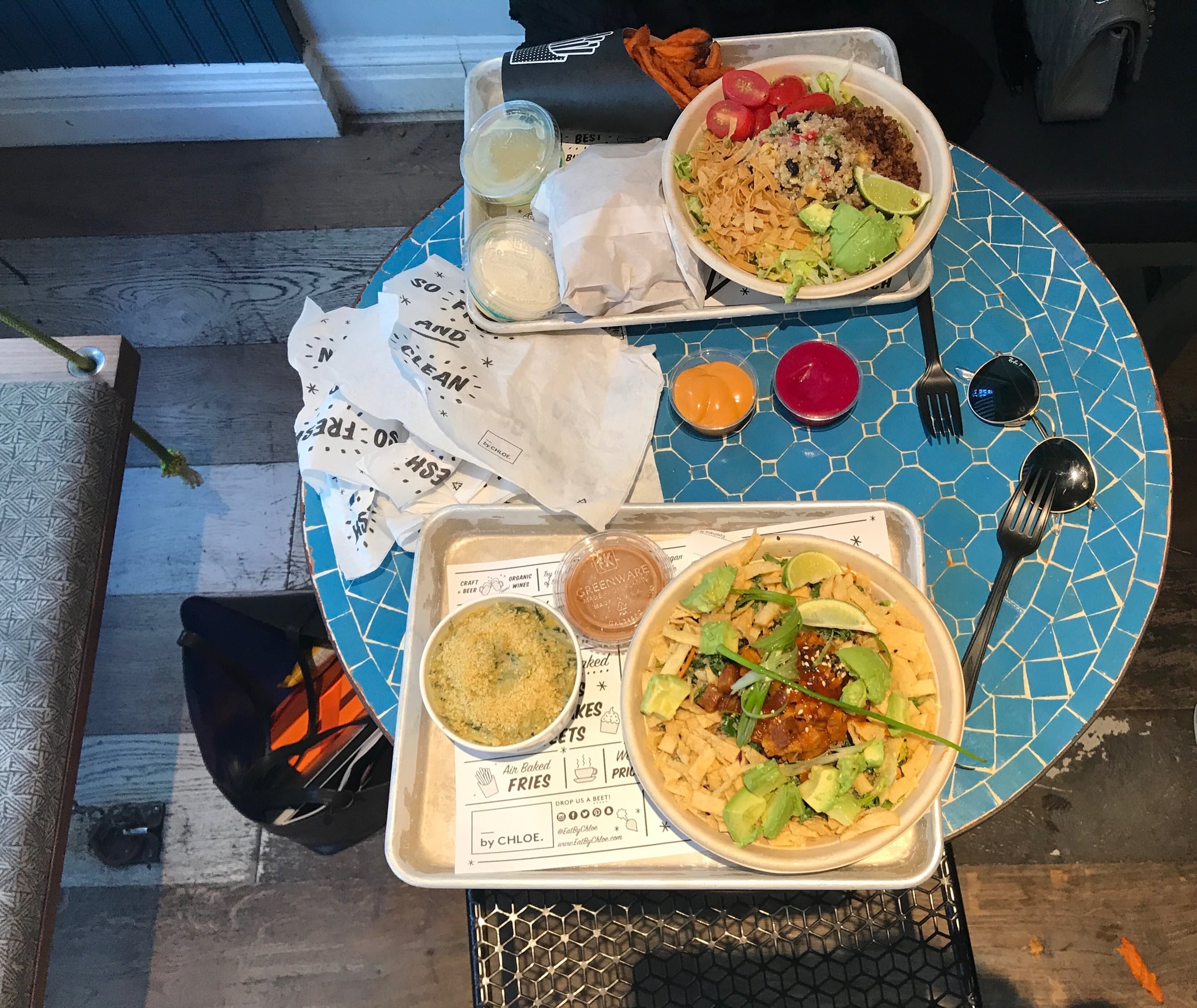 Image Source: Christina Najjar
Friday
Friday night I felt like going out and I had been dying to try the Impossible Burger — an entirely plant-based, meat-free burger that looks and tastes like the real thing, and let me tell you I was completely shook. The burger even bleeds like a real hamburger! I was so impressed with the texture and taste. As new companies like Impossible come out with new products, it will be easier for people to cut down on their meat intake. I would highly recommend the Impossible Burger to anyone — vegan or not!

Image Source: Christina Najjar
Saturday
Finally the weekend! After our weekly Pilates session, my girlfriends and I always head to our favorite spot, Cafe Cluny. This time I was looking at the menu with a different lens. My usual is scrambled eggs with a side of bacon, so that was obviously out of the question. I was happy to learn that the restaurant made its oatmeal with water not milk, so I chose that topped with berries and brown sugar. I have to say it was absolutely life changing. I'd never even thought about choosing it before but it was so filling, so flavorful, and so delicious. I used to think I could only be truly "full" from animal protein, but dishes like this proved me so wrong.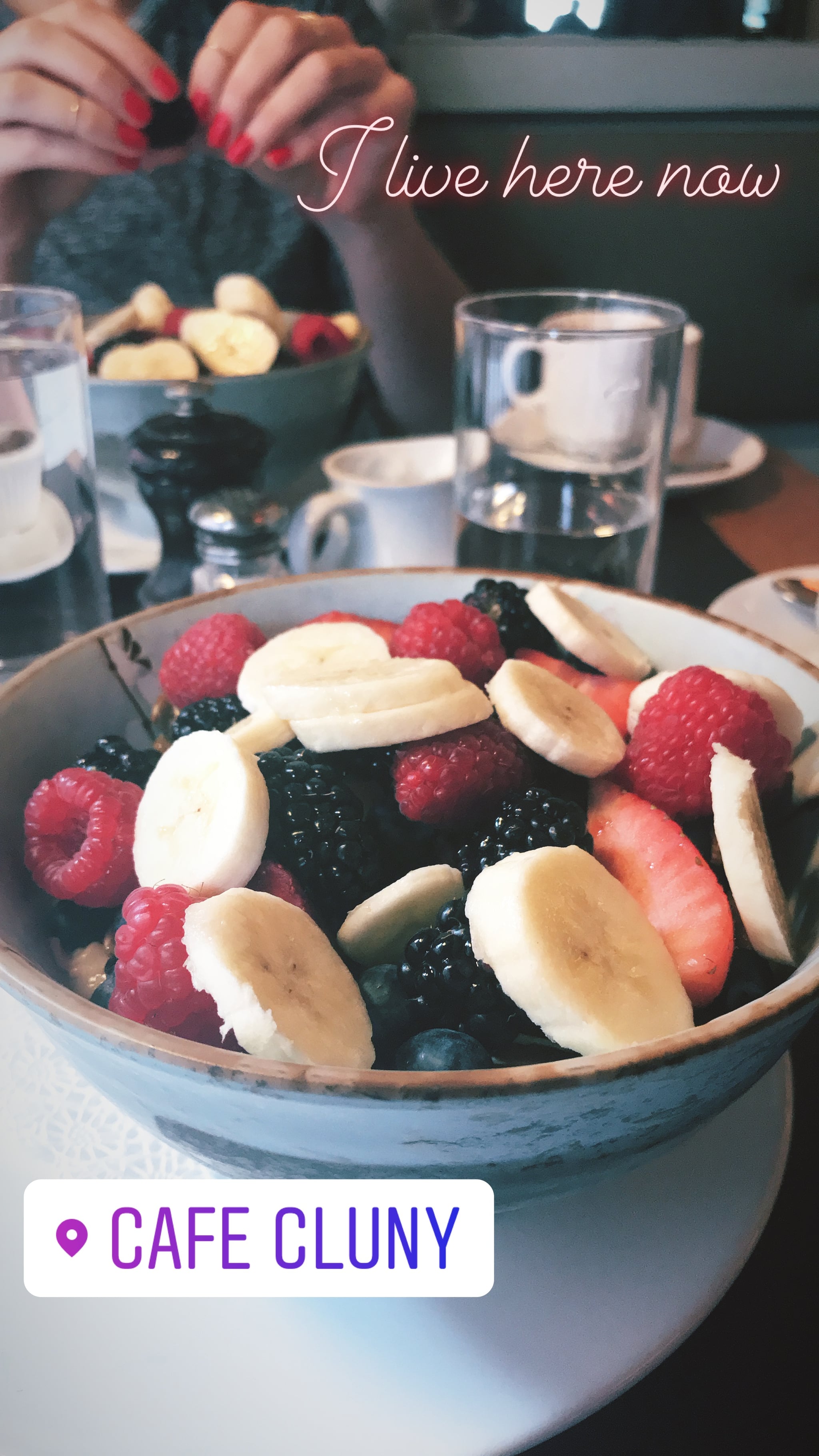 Image Source: Christina Najjar
Sunday
I felt the only natural way to end out my week being vegan was to share my newfound veganism with my friends so I decided to cook a vegan feast. Though risky, I took on making Thai mushroom and tofu wraps with a spicy peanut sauce. I prepped all the different materials and then had everyone assemble their own wraps. Luckily it was a total hit and people couldn't get enough of it. Even some of my massive guy friends who claim to never be full without eating half a chicken were completely satiated. The spicy peanut sauce was a particular favorite, made with vegan sriracha, soy sauce, and peanut butter.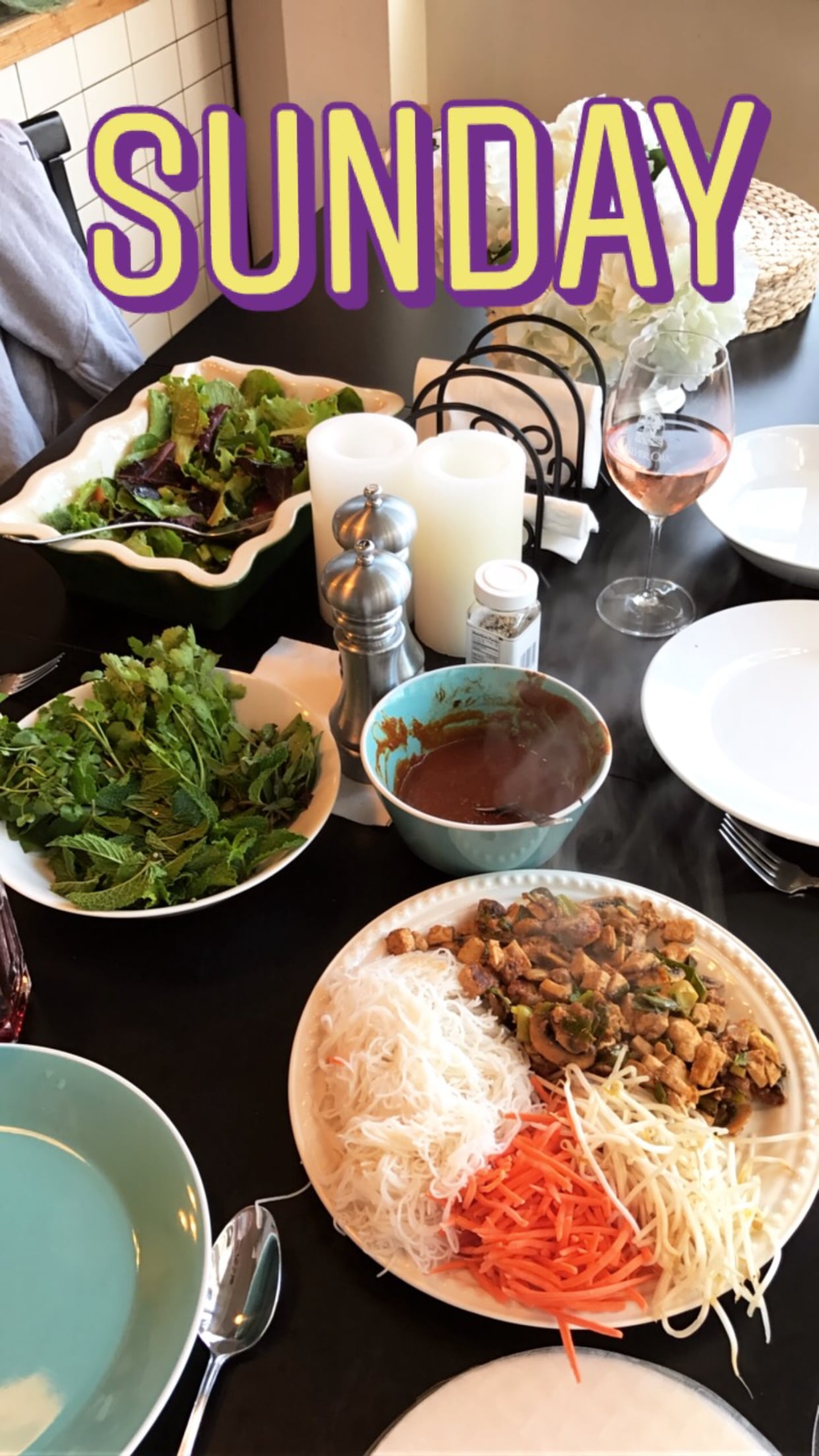 Image Source: Christina Najjar
The first question everyone asks is did I lose weight and the answer is no! I stayed pretty much the same. This is not to say that I didn't notice some major changes after only a week of cutting out animal products. Firstly, I slept like a total log. I usually have quite a bit of trouble falling asleep and I noticed the whole week I slept like a baby. Secondly, my skin was super bright and glowy. I had no spots that week, probably down to the lack of dairy. I also felt like I had a ton of energy. I didn't feel groggy in the mornings and I never had a massive crash in the afternoons.
Though I'm not sure I will stick with an entirely vegan diet, I do plan to incorporate some aspects. For example, I really feel a major difference when I cut out dairy altogether, so I think I'll continue with that. Going vegan for a week also reinforced that fresh and local is best whenever possible. Unprocessed, natural food simply keeps you feeling fuller for longer and never gives you that food coma feeling you get after a big steak. I loved my week of veganism, and I'm excited to experiment with more recipes. Now I'm really counting down the days to seeing Beyoncé at Coachella — can't wait to compare vegan notes!