Bike Helmet That Stinks When Damaged
Bike Helmet That Stinks When Damaged: Cool or Not?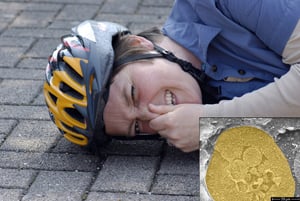 Anytime your bike helmet hits a hard surface it becomes less effective at protecting your noggin. Hit it hard or often enough and you'll render it completely useless — sometimes without even knowing until it's too late. Well, researchers at Germany's Fraunhofer Institute have come up with a solution in the form of a helmet stink bomb. If the protective material in your helmet is compromised, an odorous gas will be released alerting you to get a new one. Plus I imagine that once your helmet smells gross, you're not going to want to keep it around anyway. The helmets are currently in the testing stages so no final word on when they go live. Will you wear one when it's ready?