Bike Shopping Tips
First Steps When Shopping For a Bike
I'm in a cycling state of mind, and not just because the Tour de France starts this weekend. After a stint roaming around city streets while I was on vacation, I'm hooked on finding the best bike to do the same at home. But as a beginner city cyclist I'm overwhelmed by all the information and choices available.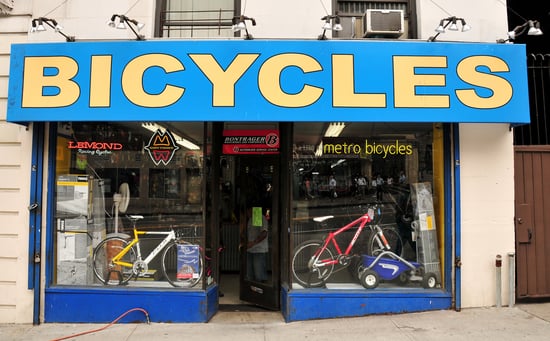 To dip my feet in the bicycling waters, I checked out the bikes at Lombardi's Sports, a local sport shop, and learned some tips from the bike specialists there. The first thing they recommend is to figure out the main purpose for your shiny new ride. Knowing a rough percentage of the time you envision yourself commuting to work or whether you primarily want to use your bike for exercise will help you decide whether a road, hybrid, or mountain bike is for you. Read on for more recommendations for first-time bike buyers.
Narrow down your selection. For first-time riders, a hybrid or dual-sport bike may be the best option. Not only are they made for both road commuting and light trail use, they usually require far less maintenance — the tires on road bikes, for example, are thinner and need higher pressure than hybrids, meaning they may require more air-pressure checks and maintenance month after month.
Size is important. Don't think you can just buy the cutest bike on the shelf. Finding the right bike size is more than about just your leg height, so make sure you go to a bike shop to get sized correctly. Riding a bike that is the wrong size can lead to back, leg, and knee pain.
Don't forget the essentials. If you've fallen in love with the perfect bike for your lifestyle, congrats! But don't forget the safety accessories before you hop on your new ride. Investing in a helmet is mandatory, and don't forget other safety essentials like a travel pump and patch kit.
I'm excited to find a bike that meets my city-commuting needs and can't wait to start the search. Have any more first-time bike-buying tips?