Biking Can Reduce Inevitable Weight Gain For Women in Their 30s and 40s
Biking Proven to Help Prevent Weight Gain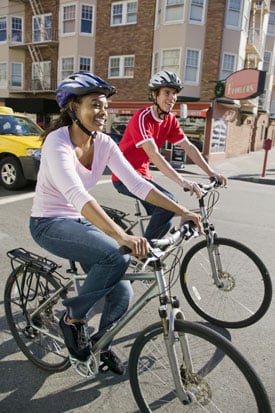 We have all heard (or even unfortunately experienced) the creeping weight gain that can surprise women in their 30s and 40s. The average weight gain, during a 16-year study following 18,000 women between the ages of 25 and 42, was 20.5 pounds. That is an average of five pounds a year, which may seem innocuous, but then it all adds up. As a fan of cycling, I was happy to hear that the study also found women who biked as little as five minutes a day gained less weight, some even lost a bit, than the nonbiking participants. Those participants who biked 30 minutes daily, the current recommendation for exercise, gained even fewer pounds.
The author of the study, Anne C. Lusk, explained to the New York Times:

"This is not suggesting that if you bicycle for five minutes you will immediately go back to the weight you were when you were 18. If that were true, bicycle sales would go through the roof. But it's highly suggestive that bicycling is highly beneficial in women."
Walking briskly at a pace of at least three miles per hour was also beneficial for staving off weight gain. Unfortunately, many of the study participants fell below that pace, which is not enough to prevent weight gain.
Lusk added, "We need to provide the infrastructure or facilities so that more people could comfortably bicycle. In the U.S., the emphasis has been on the walking environment and not on the bicycling environment." Sing it, sister! I am all for more prominent bike lanes to encourage everyone to commute on two wheels whenever possible.