Bikini Secrets From Brooklyn Decker, Audrina Patridge, and Cameron Diaz
Brooklyn, Audrina, and Cameron Share Their Bikini Secrets
Summer is in full swing! If you're like me, you've already been to a beach, river, or lake for some outdoor water fun. Even though a lot of you said you've been working hard to get in shape for bikini season, many of you are still worried about wearing a two-piece. Stars Brooklyn Decker, Audrina Patridge, and Cameron Diaz recently shared with Life & Style their secrets for getting bikini-ready — even at the last minute.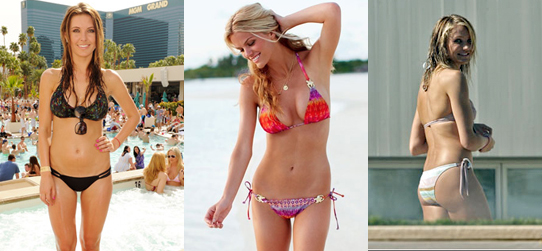 Check the tips out here:
Brooklyn Decker focuses on toning — especially by doing ab exercises. She also eats a diet high in lean protein and healthy fats, which include Greek yogurt and nuts. But when shooting the Sports Illustrated cover, she was encouraged to eat whatever she wanted: "Sports Illustrated is never about losing weight. They encourage girls to eat cheeseburgers the night before a shoot because they love girls who are a little bit curvier."
Audrina Patridge keeps her diet as clean as possible during beach season. She cuts down on carbs, sticking to lean proteins and leafy greens. "I also love shots of wheat grass . . .When I want to kick it up a notch, I get Sunfare meals delivered." Sunfare delivers already cooked meals to your door based on a "30/40/30" formula. All meals and snacks are comprised of 30 percent lean proteins; 40 percent whole wheat, low-carb or fresh, low-glycemic carbohydrates; and 30 percent monounsaturated fat.
Cameron Diaz works out with trainer Teddy Bass to stay lean and toned. Teddy told Life & Style that the trick to looking like Cameron is "doing combination exercises that blast multiple muscles at once, like squats with shoulder presses." Check out this arm workout that Teddy designed for Cameron.