Bikini Secrets From Lauren Conrad, Jessica Szohr, and Fergie
How Lauren Conrad, Fergie, and Jessica Szohr Get Beach-Ready
Just in time for bikini season is Us Weekly's "Hot Body" issue, which gives the lowdown on bikini secrets from stars like Lauren Conrad, Jessica Szohr, and Fergie. Here's a sneak peek on what you'll find inside:
Jessica Szohr tells Us Weekly, "I watch what I eat during the week, and on weekends I kind of splurge. If you starve yourself, you'll go nuts." A typical day for Jessica might include an egg white breakfast, a salad for lunch, and pasta dinner. To stay in shape, Jessica takes kickboxing and yoga classes at Equinox. "My legs were a little muscular," she says. "But yoga is one thing I do to look less bulky."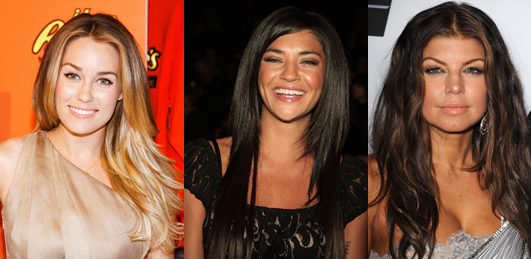 Find out what Lauren and Fergie said when you read more.
Lauren Conrad

keeps her meals small and frequent by spreading 1,500 calories between six meals each day. "When you're trying to get in shape, it's 70 percent diet," says Lauren. The reality star skips processed foods, and opts for whole foods like fruit and lean proteins instead. She also hits the gym three times a week with longtime trainer Jarett del Bene. Lauren's workout mixes punching and kickboxing moves with squats and other conditioning exercises.
Fergie told Us Weekly that she had a lot of fun putting on the pounds for her role in Nine. Taking it off, not so much. To drop the weight, Fergie would do 90-minute workouts up to six days a week. With the weight off, Fergie hasn't slowed down. "Now I want to push myself. I'm committed to being in shape."
To find out more about these stars and see what Beyonce, Carrie Underwood, and Cat Deeley do to get bikini-ready, pick up an issue of Us Weekly when it hits newsstands on Friday.