Bill Clinton Eats a Plant-Based Diet, Loses Weight, and Hopes For a Healthier Heart
Are You Surprised That President Clinton Is Eating an Almost Vegan Diet?
When his daughter asked him to lose some weight for her wedding, President Clinton overhauled his eating habits and essentially went vegan.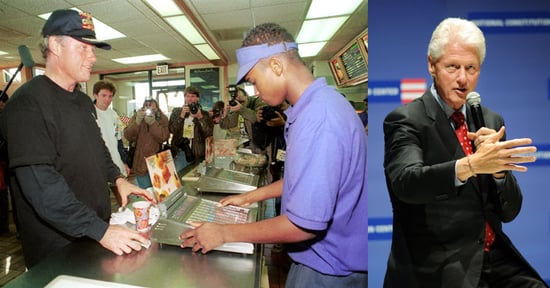 In an interview on CNN, Bill Clinton said he eats mostly a plant-based diet. The weight loss — 24 pounds to be exact — is really an added bonus, as he made the dietary changes for his heart.
"I did all this research, and I saw that 82 percent of the people since 1986 who have gone on a plant-base, no dairy, no meat of any kind, no chicken, no turkey — I eat very little fish, once in a while I'll have a little fish not often — If you can do it, 82 percent of people have begun to heal themselves. The arterial blockage breaks up."
Citing the China Study as part of his personal research, the former president is offering up his dietary change as part of the ongoing study on this matter and to see if a plant-based diet can help clean out his heart. I think this is a great change from the days of his presidency, when images of him jogging into Mickey D's and ordering a hamburger seemed to be on the news daily, but I was a little surprised. What about you?