Blueberry Chia Pudding Recipe From Brendan Brazier
Thrive Foods: Breakfast Blueberry Chia Pudding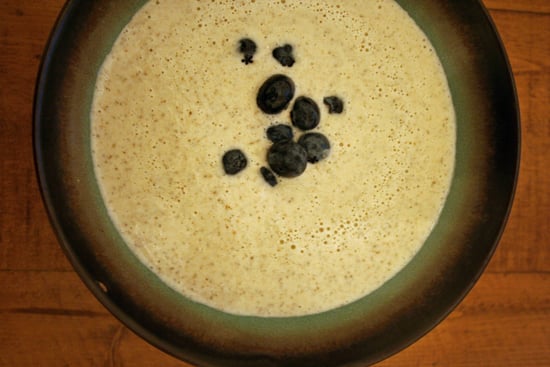 Professional triathlete Brendan Brazier is the creator of the Thrive Diet, a vegan, mostly raw nutritional plan geared toward athletes looking to improve both performance and recovery. Of all the recipes in Brendan's new book, Thrive Foods: 200 Plant-Based Recipes for Peak Health ($13), Brendan says that this blueberry chia pudding is one of his favorites.
I tried the blueberry chia pudding this morning and was pleasantly surprised. The mixture of chia, cashews, and dates creates a taste similar to breakfast grains. With blueberries, the pudding requires no additional sweetener and is the perfect breakfast fuel. Chia seeds are high in omega-3s, calcium, and fiber, and cashews will give you protein and a deliciously satisfying creaminess.
Breakfast Blueberry Chia Pudding
Brendan Brazier's Thrive Foods
Ingredients
2 tablespoons chia seeds
3/4 cup water
1/3 cup cashews
2-3 fresh pitted dates, or dried pitted dates soaked in water overnight to rehydrate
Pinch of cinnamon
pinch of sea salt
Fresh or frozen blueberries
Directions
Soak chia in water for 15 minutes. In a blender, combine with the rest of the ingredients, except the blueberries, and blend until smooth. Transfer to serving bowl and top with blueberries.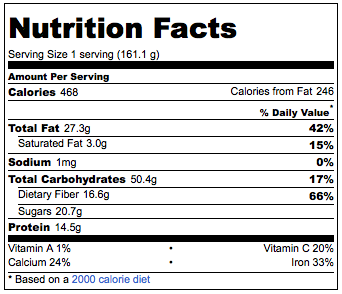 Nutritional Source: Calorie Count
Information
Category

Other, Breakfast/Brunch
Image Source: POPSUGAR Photography / Anna Monette Roberts