Bobby Strom Trains Blake Lively and Scarlett Johansson For Superhero Movies
How Blake Lively Got Her Abs Green Lantern Ready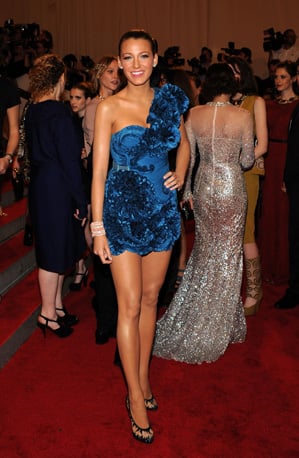 Long and leggy Blake Lively has a few things going for her when it comes to looking so lean: youth and good genes — there's also the issue of Spanx. But for her upcoming role in Green Lantern, Blake needed to get superhero ready. Trainer Bobby Strom recently shared with Us Weekly what he and Blake have been doing to get her in shape to play opposite the Green Lantern himself, Ryan Reynolds.
Strom is no stranger when it comes to working with the superhero set, having recently wrapped up training Scarlett Johansson for her kick-ass-and-take-names role in Iron Man 2. While the goal of getting both Scarlett and Blake strong was the same, the methods differed slightly. Scarlett did a lot of boxing, and Strom says he and Blake focused their efforts on circuit training four days a week, 90 minutes each time. All the planks, push-ups, and walking lunges paid off too. For the first time ever, Strom says that Blake has been able to say that she has abs.
As for her diet, there was a lot of oatmeal, fresh fruits and veggies, salad, and lean proteins like fish and chicken. Blake limited dessert to a one-bite affair only, and saved her real splurges for cooking and eating Greek food instead.