Book Review: The Cake Mix Doctor Bakes Gluten-Free
Cookbook Review: The Cake Mix Doctor Bakes Gluten-Free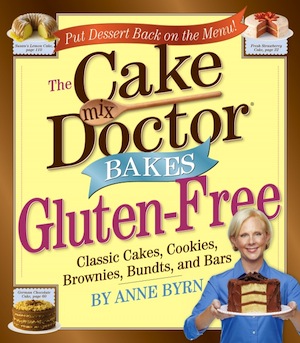 If you do any gluten-free baking, you're fully aware that baking without regular flour requires some skill and patience in the kitchen. Thankfully, with gluten-free baking mixes, it's easy to make your favorite cookie and cake recipes without ripping your hair out in the process. Anne Byrn — aka "The Cake Mix Doctor" — is at it again with her latest cookbook, The Cake Mix Doctor Bakes Gluten-Free ($9), utilizing gluten-free baking mixes in all of her recipes. Always a sucker for gluten-free recipe books, I decided to see if Anne's reputation carried over into gluten-free recipes as well.
Here's what I thought about the book.
The first thing that surprised me about this book was the fact that gluten-free baking mixes are used in her delicious recipes for chocolate banana cake, orange layer cake, lemon chiffon cake, blueberry muffin cake, pumpkin spice cake, peanut butter brownies, wedding cakes, and more. You'll also learn how to make fancy frostings like strawberry cream cheese frosting, white chocolate cream cheese frosting, fluffy marshmallow frosting, and caramel glaze.
So if you want to bake a gluten-free dessert from scratch, this probably isn't the baking book for you, but from my experience, the mixes make it much easier. For instance, Anne will use yellow g-free cake mix for toasted coconut pound cake or pumpkin raisin muffins, g-free brownie mix for her marbled cream cheese brownies, and chocolate g-free cake mix for chocolate chip amaretto cake. But she does encourages you to get creative, to not follow the box's instructions (love this!), and she provides you with scrumptious substitutions throughout the book: use yogurt instead of sour cream, or orange juice instead of water or milk. If you're a first time gluten-free baker, you'll appreciate Anne's easy step-by-step approach, and you'll also learn lots of neat tips about gluten and gluten-free baking in general.
What really helped me out in the book were all the useful baking how-tos like how to tell when a bundt cake is done, and probably the most useful feature — "10 Steps to Sensational Gluten-Free Cakes." Every time you make one of the Cake Mix Doctor's recipes, there is an area beside the recipe to make notes for next time. And if you're lactose-intolerant, Anne also includes dairy-free substitutes whenever possible.