Book Review: Core Performance Women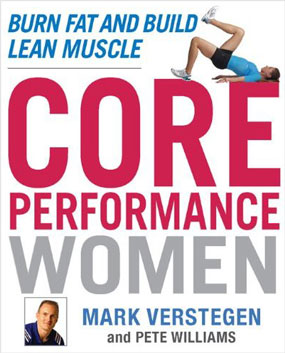 After dealing with a back injury, I was drawn to Pilates — it was the only thing that lessened the pain. Why? Because it was all about creating core strength. So of course the title Core Performance Women ($32.50) piqued my curiosity. Written by trainer Mark Verstegen and journalist Pete Williams, the book is much more than a fitness regimen. A little over a third of the book is dedicated to diet and nutrition. Verstegen, who has trained the likes of soccer star Mia Hamm and NFL quarterback Brett Favre, states early in the book, "The nutrients you decide to eat and the delivery form that you choose to eat them in will directly affect the way you think, feel, and act." Food fuels your everyday life, not just your workout. The Core Performance eating philosophy is a non-diet; it's not about deprivation, but "proper fuel for a hectic life." In fact, Verstegen even refers to meals as fueling times. He also offers simple-to-follow rules for eating, like focusing on lean protein and unprocessed carbs.
To hear about the fitness section of the Core Performance,
.
While I can talk about food for hours, the movement section of the book got me seriously fired up — there's an entire section on foam rollers. The workouts consist of "pillar prep," which is essentially core work and variations on planks and bridges, followed by movement prep (lunges of all sorts and more) to warm up the body for strength and power training with dumbbells and cables. The strength training exercises build on the movement prep exercises by either adding weights to the exercise or by complicating the movement pattern. The book even contains a section on trigger-point self-massage with tennis balls, a great way to fend off overuse injury. There is even a section on what to massage when you have pain in different body parts — low back, knee, hip, etc. It's a weekend warrior's guide to incorporating fitness into the workweek.
If one of your New Year's resolutions was to train for a race or get back in shape, I suggest you invest in this book. It is a thoughtful eating and training regimen to help you obtain your goals and avoid injury. You can find the book on Amazon for $11 off the cover price.