Boxer Marlen Esparza on Olympic Training
Boxer Marlen Esparza Fights in Olympics Quarterfinal Round
Making its Olympics debut in these London games, women's boxing is the sport to watch in 2012. Team USA flyweight boxer Marlen Esparza was only 11 when she first stepped into a boxing gym, and it took her days to convince trainer Rudy Silva to allow her to participate in his group workouts. After watching her throw some sloppy but passionate punches at a bag and seeing what Rudy describes as a "spark," he allowed Marlen, now 23, to join his sessions with advanced boys.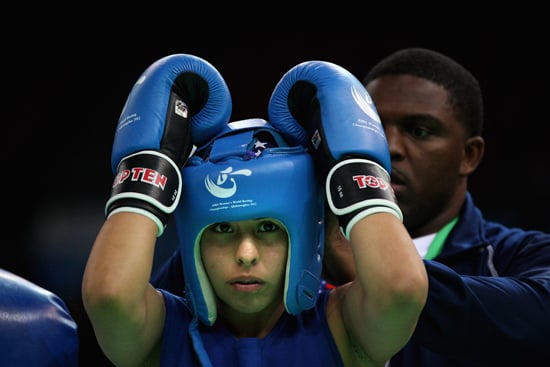 But that spark doesn't mean Rudy welcomed her with open arms. "I tried to push her really, really hard," recalled Rudy during a recent interview at Nike's campus in Oregon. "I would push the groups really hard, mainly because I wanted her to just quit. After a while, some of my guys started quitting. She just kept showing me every day that she was there to stay and this is what she wanted to do." Eleven years later, Rudy is still her trainer and Marlen's tenacity paid off. Not only has she won six national titles, winning her first at age 16, but she was also the first woman to qualify for the US Olympic boxing team.
This honor is not lost on Marlen. In a quick interview in Houston she told us, "To be the first woman to qualify for the Olympics is everything to me. People say to me, 'Boxing is not who you are; it's what you do.' But to me, it's who I am. I've never felt this good in my entire life, ever."
The road to qualifying wasn't straightforward, though. The announcement that women's boxing would be included in the London games also included the news that four weight classes would be combined. Rudy explained, "At the time that they announced the 112 flyweight class, the weight classes that were going to merge into 112 were 106, 110, 114, and 119. Those four weight classes had to compete at 112." Until the International Olympic announcement, Marlen had fought in the 106-pound weight class. "I had to gain weight," Marlen told us. "In 2010 I started competing at the 112 Olympic weight class and figuring out who was going to make it to the games. I was fighting girls down from weighing 119. It was intense. Luckily, I beat them all."
Learn details of how the young boxer eats and trains after the break.
Adding six pounds to her petite 5' 3'' frame was no small feat, especially since Marlen works out intensely three times a day. But for the athlete who skipped hanging out at the mall with friends during high school to save her legs for her workouts, giving up junk food was a simple affair. To maintain her higher fighting weight, Marlen eats tons of chicken and egg whites along with protein shakes, fruits, and veggies. Her occasional treat is a hot fudge sundae, but those splurges happen about every six months.
Marlen's dedication to her sport along with thoughtful strategy in the ring combine to make her a champion. And she trains hard. Her day usually starts at 4:30 a.m. with her first of three workouts, which ends around three hours later. Marlen runs and swims for cardio and strength trains three days a week. Intense circuits with body weight moves and core work round out her conditioning, along with much-needed scheduled naps and rest time.
Title IX became law 40 years ago, and as a trailblazer in women's boxing we asked Marlen why her sport should be included in the games. "I think women's boxing should be a sport in the Olympics because all women's sport should be in the Olympics. Who cares if you're a girl or a boy? The Olympics are a celebration of sports, and women should be able to celebrate sports just like men." And celebrate her feats, we will.
On Aug. 6, Team USA flyweight boxer Marlen Esparza takes on Karlha Magliocco of Venezuela in the quarterfinals. We're hoping Marlen makes it to the gold-medal rounds on Aug. 9.