Boxing For Beginners
Boxing For Beginners: Notes to Prepare You For the Ring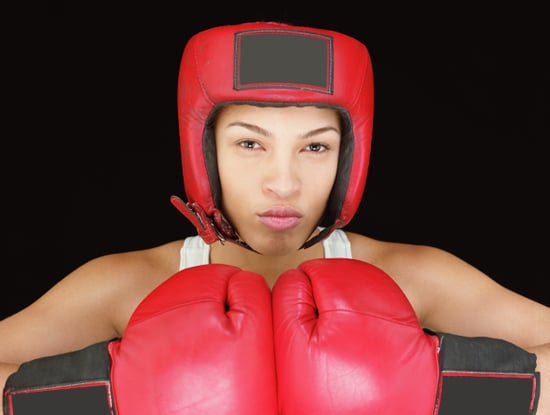 While working out at Crunch gym, I heard a woman hiyahing and turned to find her mightily kicking and punching her (padded) trainer. Her toes were taped, her mouthguard was in, and boy, her sweat glands were working. A rush of adrenaline combined with visions of Million Dollar Baby inspired me to talk to Crunch trainer Casey Mallo about what to expect as a beginner boxer and why you should consider putting on those puffy gloves.
Don't come injured: It might seem like a no brainer, but boxing is especially strenuous on your back, hips, and wrists. Clear up any preexisting injuries before you start to train.
Wear shorts, handwraps, and training gloves: Casey says for the absolute beginner boxer, these are the essential things that you need. You can buy from well-known boxing equipment companies like Everlast. Mouthguards, headgear, fighting gloves, and special boxing boots are other essential items to purchase once you move toward a higher level.
Be fearless, and don't hesitate: Casey admits that boxing can be very strenuous and exhausting but rewarding because it allows you to release any anger or tension you might be storing.
Master the techniques: Prevent injuries by learning good technique. Listen to your trainer, and first and foremost, master the basic stance, weight distribution, and hand, arm, and elbow placement. Study up! Learn some of these boxing basics from Cara Castronuova, pro boxer and trainer from The Biggest Loser.
Punch and rest: Depending on your trainer's technique, you might train with quick-paced, 30-second circuits with a recovery period between each training exercise. Casey finishes a session with body weight exercises like burpees, push-ups, and crunches.
Counter poses and exercises: In boxing you hunch over to protect yourself, especially your face. Stretch out your back to avoid having hunched shoulders and poor posture.
Eat to recover: Casey recommends eating protein and lots of carbs to recover from boxing. You'll sweat a lot, so be sure to eat something to help you replenish your electrolytes, too.