Boxing Workout From Michael Olajide Jr., Trainer to Eva Mendes
This Weekend, Box It Out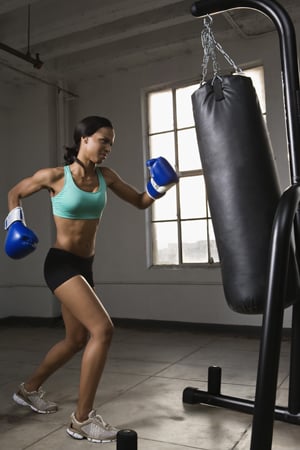 My July/August issue of Fitness has a really cool feature in it that's inspired me to try out boxing. The mag paired four of its readers with celebrity trainers, one of which included Michael Olajide Jr., owner of Aerospace gym and trainer to Eva Mendes. I mean, who wouldn't want Eva's sexy shoulders? Michael's week-long workout included a 60-minute cardio boxing class, a boxing lesson, an entire hour of lunges and squats with a punching bag, and a sparring session. Yowza.
A good friend of mine has been going to a boxing gym for over a year now, and says that she feels stronger, more agile, and confident. I'll be using this weekend to shadow her workouts and hopefully get the same results that she and the Fitness reader got from their experiences. For me, the added leisure time of the weekend makes it a great opportunity to learn something new.
If you want to try out boxing, find a gym in your area, or look for a boxing fitness DVD at your library. The workout will have your heartbeat up, and your lower body feeling stronger by the minute!