The Brazier Vegan Chocolate Shake
The Brazier: Vegan Chocolate Shake From Thrive Juice Bar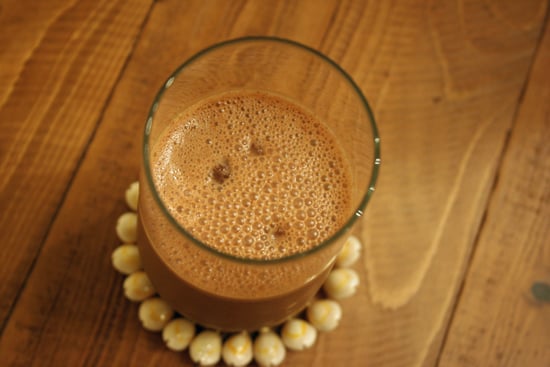 When I spoke to professional triathlete Brendan Brazier, he said that one of his readers was so inspired by the Thrive Diet (a vegan, mostly raw nutrition plan) that the reader opened a juice and smoothie bar dedicated to Brendan's book Thrive. Brendan added, "He's actually made my original smoothie recipes even better." In his latest book, Thrive Foods: 200 Plant-Based Recipes for Peak Health ($13), Brendan has included a few revamped smoothie recipes courtesy of his fan back at Thrive Juice Bar.
I decided to make "The Brazier," which is essentially a healthy chocolate shake. For the vanilla vegan gelato, I used So Delicious Vanilla Bean Coconut Milk ice cream with no sugar added. The recipe is not overly sweet, and I think the shake would be a great post-workout drink or a dessert substitute for adults and kids alike. I found the recipe is a little thin for my taste, so after I initially tried The Brazier, I reblended it with half of an avocado to give it a thicker, heavier texture reminiscent of a chocolate milkshake.
Tell me what you think after you make your own Brazier smoothie.
Ingredients
1 tsp raw cacao nibs
1 tbsp organic cocoa powder
6-7 raw cashews
2 tsp blue agave nectar
1/4 tsp vanilla extract
1 scoop organic dairy-free vanilla gelato
1 tbsp almond butter
1/3 ripe banana
1/3 cup rice milk
1/2 cup coconut water
1/2 avocado
2 or 3 ice cubes
Directions
In a blender, combine all ingredients, including ice, and blend until smooth.
It's best served immediately but can be kept up to two days in the fridge.
Makes 2 cups
Information
Category

Drinks, Smoothies

Cuisine

North American