Breast Cancer Diagnosis at 25
I Was Diagnosed With Breast Cancer at 25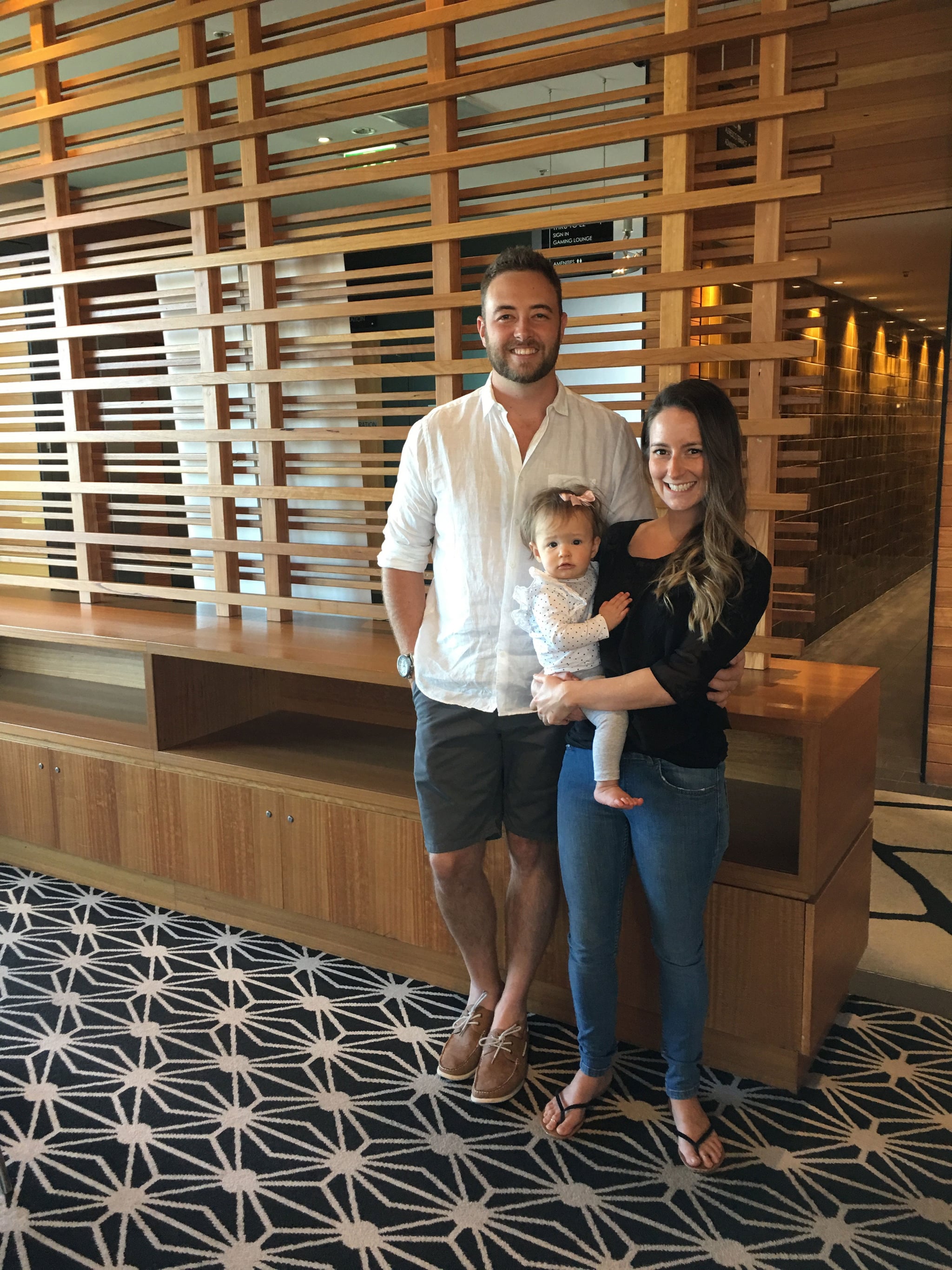 My life before cancer: I was 25, working as a hairdresser, and excitedly planning my wedding after my boyfriend proposed to me on holiday in Hawaii. Five months after our unforgettable trip to Hawaii, I found the lump.
I had absolutely no pain at all. I was in the shower, washing under my armpit, and as I pulled back from my armpit, I felt a lump. I thought I had no symptoms, but I remember in the lead up to finding it that I was tired. I wasn't going out with my girlfriends or partying on weekends; I was just staying at home because I felt exhausted all the time. I thought I was just working too much and that getting up early to go for my walks was tiring me out. I didn't even think of my tiredness as being a sign until after I was diagnosed — then it all made sense.
After finding it, I left it for a few days until my fiancé encouraged me to get it checked out. I went to the GP, and she mentioned that it was probably a result of me working out too much at the gym, and it was probably just a bit of built-up tissue; even so, she gave me the referrals to get it checked out. My tests were on a Friday, so I had to wait until Monday for the results. I wasn't nervous at all because I didn't think it would be cancer — I was so young — and my family does have a history of lumps and bumps in their boobs, like fatty tissue, so I wasn't worried at all.
"When I went to my doctor on Monday and she told me it was breast cancer, everything in the room went black."
When I went to my doctor on Monday and she told me it was breast cancer, everything in the room went black. I don't really remember what happened, my fiancé put his hand on my leg and I couldn't handle someone touching me, so I shoved his hand off. I can't remember anything that was said afterward except the doctor handing me a packet of Valium and saying, "You're gonna need these."
Leaving the doctor's office after finding out, I told my fiancé to call my parents because I couldn't possibly speak to them — everything was a bit of a blur.
The very next day, I went in to see my oncologist — my mum, my sister, and my fiancé all came with me — where I was told the doctors were unsure of my prognosis. That day I actually asked if I was going to die, and they said they weren't sure, but they were going to try and save my life. That was really heavy. I was diagnosed with stage two breast cancer; the lump was over two centimeters, which they considered aggressive, and it had spread to 13 of my lymph nodes. I was told I'd need a lumpectomy, chemotherapy, and radiation. Being so young, they were satisfied with my undergoing a lumpectomy instead of a double mastectomy at this stage. The doctor took into account my age, my marital status, and the fact I had no children so I was rushed from her office to IVF Australia to start the IVF process. They gave me the option of either saving my eggs or getting my fiancé involved and having embryos done — we decided on the embryo option because we were engaged and it came with a higher success rate.
My surgery to remove the tumor was delayed for six weeks until the IVF process was complete. Before the surgery, I would think every single night, "I'm just not going to make it." I didn't want to speak to my friends, I was really down and didn't think I was going to get through it because I had read a lot of things about breast cancer. It wasn't until after the surgery when the doctors gave me a clear margin — and told me they removed all of it and they didn't think there was any more left in there — that I thought things were going to be OK. Once I was healthy enough, I moved straight into chemo — every three weeks for eight months. But not long after my first chemo session, I caught a bad infection, which saw me quarantined in hospital for two weeks. My immediate family were allowed to visit but had to wear masks to see me. It was such a horrible time; I put on 12 kilos, and I lost all my hair, my eyelashes, everything!
"I kept telling my fiancé he should just leave me. I can't even describe how unwell I was."
I kept telling my fiancé he should just leave me. I can't even describe how unwell I was. Chemo meant I wasn't allowed to have contact with people for 14 days after every session because my white cell count had dropped so low that I was too weak, and I was picking up bugs so easily — if my husband went down to the pub to meet his mates, he'd have to come home, strip his clothes off, have a shower, and put a load of washing on before he could even touch me.
After chemo, I had to undergo radiation every day for six weeks. Once I finished my radiation, my oncologist suggested a new menopause treatment for three to three-and-a-half years, where they turn my ovaries, estrogen, everything that makes me female off and put me into menopause. I didn't get a period, my ovaries didn't work, I didn't ovulate, and I got hot flushes and all of that all the time. Eighteen months into my menopause treatment, I underwent my double mastectomy and breast reconstruction. The doctors didn't want to take tissue from my stomach to protect my chances of carrying a baby in the future, so instead they cut my back open and took all the muscles and lats out of my back and built breasts with that tissue and with implants. This means I now don't have any muscles in my back. You can feel my rib cage through my back, which means I'm a very weak when it comes to things like swimming and climbing — but I'm not a climber so it's not an issue for me. I just need to be careful.
"They cut my nipples out and threw them away and removed all the muscles out from my chest area to make way for the new boobs."
The surgery went quite well considering, until four weeks later when I got an infection in both boobs and both wounds in my back. My skin was too moist and wouldn't hold together and heal so my back wounds split open. I had to go back for emergency surgery twice — if the infection went from my back to my front, I'd lose my boobs completely and I'd be flat-chested for the rest of my life. I was very worried about getting a staph infection, so I chose to recover at home because I knew I could keep things cleaner at home. Two nurses would come every day because I had a vacuum attached to me 24 hours a day for seven weeks to suck the infection out of my back wound.
Three-and-a-half years after starting menopause treatment, I was done, and they told me my chances of falling pregnant were superlow because my body had suffered so much. They told me to wait at least two months to let my body recover, and eight months later, I fell pregnant, naturally. It was incredible! My oncologist was the happiest person I had ever seen when I told him the news. Everyone was really surprised and happy for me, because it really was a 50/50 chance.
Life is amazing now! Since my cancer, I finally got married, I opened my own salon, and I have my beautiful nine-month-old daughter, Mya — I'm really appreciating my life. Obviously being a cancer patient is the worst thing ever, but it also made me realize how good life is. I'm a very healthy person now, I walk every day, and I try not to have a bad day; if I wake up the next day, I'm just thankful. Thankful that my cancer journey has given me this outlook on life and not made me feel down for the rest of it, I'm actually really good now.
My little miracle, Mya.
Image Source: Emma Gorrick