Brendan Brazier Interview on Thrive Foods
Brendan Brazier Shared His Secrets to Optimum Health, Energy, and Youth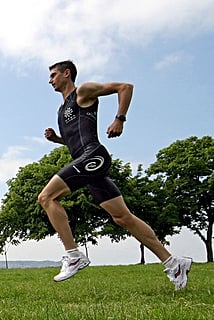 Beyond being a professional triathlon competitor, Brendan Brazier has covered his nutritional bases. Brendan's the creator of the "Thrive Diet," a nutritional plan to improve performance and recovery and has developed Vega shakes, a line of nutrient rich vegan protein shakes. He regularly tours the US to give speeches about how to have optimal health. The author of two books, Brendan will release Thrive Foods: 200 Plant-Based Recipes for Peak Health on Sept. 6. While on the road, Brendan talked to us about his favorite foods, how he stays young, and how to have abundant energy.
FitSugar: What is one food that you crave for every meal?
Brendan Brazier: I like greens – anything high in minerals and chlorophyll, like kale, spinach, broccoli, algae, and spirulina. Greens are highly alkaline-forming, which helps reduce inflammation. For an athlete, that's huge. Green are high in protein too, but a lot of people don't know that dark greens are 45 percent protein. Some algae is up to 65 percent protein.
FS: Do you have any guilty pleasures when it comes to food?
BB: I really don't. I've eaten this way for so long that my palate really does crave greens and good stuff. Once in a while I'll have some brown rice, which is not bad at all, but when you compare the nutrient density to other things like greens, it is less nutrient dense.
Read more about Brendan's healthy lifestyle and how it may help slow down aging.
FS: What's a startling nutritional fact that you think people should know?
BB: You can become biologically younger. Exercise breaks down body tissue and muscle tissue. If you rest and eat well, your body overcompensates and becomes stronger than it did before. If we don't eat well right after a workout, we are basically not giving our body the materials it needs to reconstruct itself. This leads to degeneration and pre-mature aging. Whereas, if you are exercising on a regular basis and eating really well, then your body is in a constant state of regeneration. The cells are actually produced more recently, which makes you biologically younger.
FS: How do you keep yourself motivated, especially when you're tired?
BB: Because my nutrition is so good, I can get by without much sleep. I sleep really deeply, and that's rare for a lot of people. If you can lower your stress through good nutrition, you can sleep more deeply and thus more efficiently. Mostly, I never have to stay motivated, because I really enjoy training, traveling, and giving talks.
FS: You've introduced a lot of people to unusual superfoods. What do you think will be the next big superfood?
BB: Some people think it has to be an exotic food from the Amazon, but I don't that's true. A lot of local foods that we have are of equal or greater value. There is less economic incentive to buy local fruits like blueberries and blackberries than there is to buy goji berries. A superfood for me is a nutrient dense food. Kale is a superfood, and it grows very easily. Anyone in North America can grow their own little garden and produce their own superfood.
FS: What's your favorite Vega smoothie?
BB: I really like the chocolate with coconut water after a workout. Or, I mix chocolate with almond butter, banana, and blueberries. I like to blend the vanilla chai with a banana or with some almond milk.
FS: What three recipes from your new book, Thrive Foods, are your favorites?
BB: For Fall, I love the recipe with squash, rice, and sage butter. It's really creamy and buttery (made with non-dairy butter). I really like the chia puddings a lot. There's a chocolate chia pudding and one with blueberries. One of my favorite smoothie recipes is from Thrive Juice Bar in Waterloo, Ontario. It was started by someone who read my book and wanted to bring it to life. He's actually made my original smoothie recipes even better.
For a taste of Brendan's new book, download the intro and three recipes from Thrive Foods on Brendan's Facebook page.
Source: brendanbrazier.com