Brooklyn Decker on Fitness In Exclusive PopSugar Interview
Exclusive: Brooklyn Decker Lets Andy Be the Tennis Star While She Sticks to "Getting Photoshopped"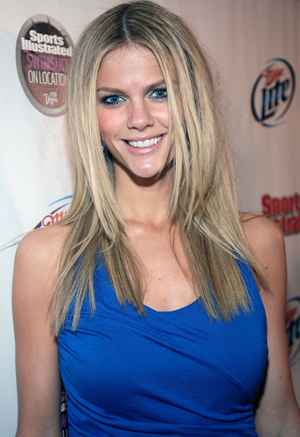 We were super excited to catch up with Sports Illustrated swimsuit edition cover model Brooklyn Decker while she was on duty as a spokeswoman for Gillette last week. Besides giving Pop the inside scoop on what it was like to work with Jennifer Aniston in Just Go With It and telling Buzz why she wanted to try acting, the 5-foot-9 svelte beauty also shared with us how she stays so uber-fit and why she leaves the tennis playing to her husband, pro (hottie!) Andy Roddick. Check out what else Brooklyn said about maintaining a healthy life:
PopSugar: How do you stay in shape while traveling?
Brooklyn Decker: It's hard because [gyms in Europe] are a lot smaller . . . so the thing I started doing when I started modeling is I started running. When I travel to all these countries I never get an opportunity to see them because we're working all day long. So for me it was my way to sightsee (oddly enough), and I really got to see a city and still work out while I was doing it. The biggest thing is having that iPod playlist and tuning out, zoning in on yourself, and just running. And you can do that anywhere in the world really. Other than that, I just hope they have a gym and have weights wherever I go!
PS: What do you listen to on your iPod?
BD: Everything from Jay-Z, U2, the Killers . . . I have Taylor Swift, good music and bad music — anything really that has a beat and will keep me moving. Jay-Z and Black Eyed Peas are big ones.
PS: What are your favorite core exercises?
BD: Abs! I do tons of abs. Especially before a shoot, I'll always do a series of abs before. The biggest thing — when you see the biggest difference — is alternating your workout. So for me I'll do straight sit-ups or rotating sit-ups . . . and side crunches. It's all about really mixing it up. The more you mix it up, the more effective the workout is, the less bored you get with it.
Find out what Brooklyn said about bulking up, working out with Andy, and Sour Patch Kids when you read more.
PS: What about weight training?
BD: I love doing weights, and I feel like women are scared of doing them because they're afraid they're going to get bulky. I find when I'm at my most lean and have the most definition is when I'm doing weights. I try to do 10 to 15 pounds, depending on the repetition — the lower the weight, the higher the reps I go. I do usually 10 to 15 reps of 10 to 15 pound weights, and I do alternate arm series and squat series. Squats and lifts are the best thing for me, in terms of toning up my tushy so that's key.
PS: Do you ever work out with your husband [tennis pro Andy Roddick]?
BD: I train with my husband's trainer, and he trains athletes so he puts me through an athletic workout, which is really cool. In no way, shape, or form could I ever keep up with a professional athlete since I'm a model and not an athlete, but I like to pretend that I do their workout. So I do a lot of hurdles and medicine ball work, a lot of track work. It's really stimulating. It's really fun.
PS: Do you play tennis too?
BD: No! I stick to modeling. I left my husband stick to his craft. He's pretty good at it so I'll let him be the tennis player in the family. I just stick to taking pictures . . . and getting Photoshopped!
PS: What are your favorite snacks?
BD: I love cashews, almonds, Brazil nuts — I just eat them all the time, they're amazing. And berries, berries are among my favorite snacks. And I love hummus — I eat that stuff all the time. I'm constantly on the go as well, so it's really about keeping the energy maintained and not feeling so hungry all the time. So it's really about eating small things throughout the day.
PS: Do you ever indulge?
BD: You have to! Otherwise you go crazy. Mine is I love ice cream and I love candy. I have the palate of a 12 year old. I love really healthy foods, I'm not into unhealthy like french fries or burgers, and things like that. But when it comes to sweets I am such a sucker for Sour Patch Kids or Sour Patch Watermelons — anything chewy, gummy and sour. Starburst and the Skittles! That stuff you eat when you're a kid, that's what I love.