Brushing After a Meal Can Cause Enamel Loss
Healthy Tip: Wait 30 Minutes After a Meal to Brush Your Teeth
A healthy lifestyle means taking care of your teeth — after all, excess plaque has been linked to an increased risk of heart disease, and too much icky bacteria in your mouth can lead to gum disease and cavities. But if you're an après-lunch brusher, take note: you should wait at least 30 minutes to brush your teeth after a meal, according to a report in The New York Times.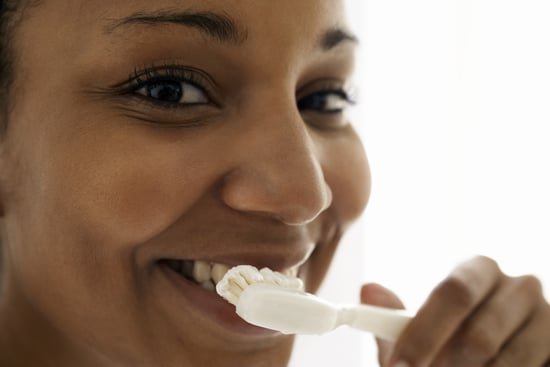 The directive is based on a study that followed people for three weeks, looking at the impact of postmeal brushing after they drank diet soda. The researchers found that those who brushed their teeth within 20 minutes of finishing their sodas had increased loss of dentin, the tissue found underneath your teeth's enamel. That's because, researchers say, brushing too soon after an acidic meal pushes the acid further into your teeth, causing erosion of tooth enamel and dentin.
So the next time you are eating a particularly acidic or sugary meal, wait at least 30-60 minutes before you brush your teeth. In the meantime, rinse your mouth with water or a solution of eight parts water to one part baking soda to get rid of the acid in your mouth, researchers recommend. Chewing gum afterward can also help.
Do you brush your teeth immediately after meals?