Build Back Strength With Sit-Ups
A Core Exercise to Strengthen Your Back
The key to strong abs is a strong back, so it only seems right to pay it forward. This ab move will strengthen the muscles in your back and help unite your entire core. Whether you're on the ground or on your yoga mat, this versatile move can be done anywhere.
Sit-Up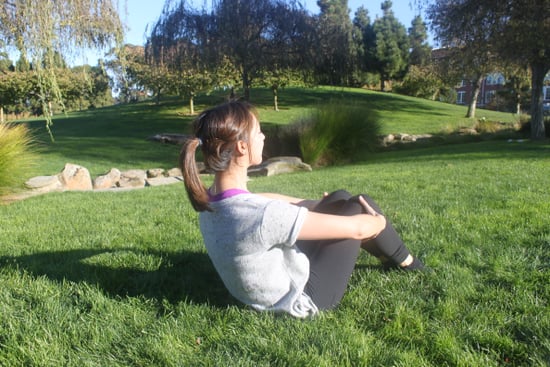 Start sitting up with your legs together and your hands held behind your knees.
Pull your naval in as you curve your lower back down toward the floor, and lift your heels up.
Use your abs to crunch forward 10-15 times.
Extend Your legs

Straighten your knees as you raise your lower legs so your toes are pointed toward the ceiling.
Contract your abs in as you crunch forward 10-15 times.
Keep reading to see a more challenging variation after the break!
Bonus Move

Take your hands off, and place them next to your side, keeping them off the ground.
Holding your posture, flap your palms down toward the floor 10-15 times to finish.
Keep your core engaged for the entire exercise. Think about pulling your abdominals in toward your spine, and remember to breathe through the movement.