Burn More Calories With Interval Training
Weight Loss Exercise Strategy: Go Intense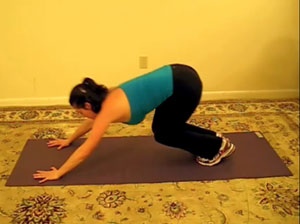 You've been eating healthy and sticking to a regular exercise plan for months now, but you're just not seeing the results you want on the scale or in the mirror. It's a myth that working out at a lower intensity (aka, your fat-burning zone) burns fat. The truth is, burning calories is what counts, and the best way to do that is by getting intense with your workouts. Work to 85 percent of your maximum heart rate, and if you're not sure what that means to you, it might be a good time to invest in a heart rate monitor.
I don't recommend pumping up the intensity for your entire workout as that will be impossible to maintain, and because it's proven that interval training is the best way to get the most caloric burn. Not only will you burn calories during your workout, but you'll also continue burning calories for hours after you're done. That's because this type of intense exercise really pushes your body so much that after you sweat it out, it has to go through a recovery period. This takes energy, meaning it burns calories, so you end up getting more bang for your buck as compared to a workout at a consistent and low intensity.
I know it can be frustrating to hit the gym regularly and not get any closer to your weight loss goals, so give this tip a try. Kick it up a notch by adding intervals to your cardio workouts such as sprints, mountain climbers, jumping rope, or plank V jumps.