Butt Exercise to Tone and Lift Glutes
Butt Buster: Squat With Side Leg Lift
Moves that challenge multiple body parts at once are a time-saving trick when squeezing a workout into a hectic schedule. Adding a leg raise to this squat variation challenges your balance while toning your glutes. Working on one leg forces your core to work, and the side kick tones the saddlebag area.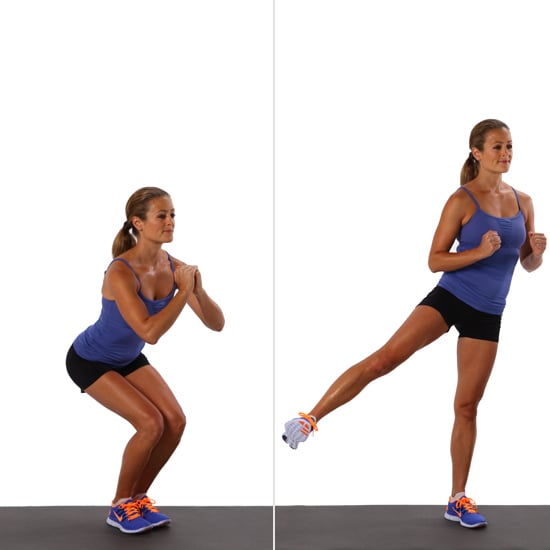 Start standing with feet together and clasp your hands in a fist in front of your chest; for more of a challenge, hold a dumbbell on top of each shoulder. Keeping your weight in your heels, bend your knees coming into a squat.
As you straighten your legs to return to standing position, lift your right leg out to side with a flexed foot.
Return to the squat position as you bring your right leg back to center to stand on both feet at the lowest point of your squat. This completes one rep.
Complete three sets of 12 to 15 side leg squats on each side.
Single-leg moves help even out strength discrepancies between right and left and are great for runners. If you're thinking of ski season already, this move will also prep you for mountain time.
Source: POPSUGAR Studios