Butternut squash Quinotto
I made risotto using quinoa so is it called quinotto then? It sounds cool so I'll call it that :) This is probably the tastiest dish I have ever made, especially for the first time making it and not having a recipe to follow so I had to share it right away! It only took about 35 minutes to make... definitely something I will be making again, and for you who live in America-maybe you could use this recipe on Thanksgiving if you're worried about calories and fat!
Butternut squash Quinotto
Original recipe
Ingredients
1/2 cup uncooked quinoa
500 grams butternut squash, peeled, cubed
1 small carrot
5 mushrooms
2 garlic cloves
1 small onion
1 1/2 cups vegetable stock, low sodium
a few parsley leaves
2 tbsp olive oil
Directions
Preheat oven to 180 C.
Put butternut squash in a bowl and add 1 tbsp olive oil, and some chopped parsley. Mix so the cubes are coated.Put in foil, but don't cover, and roast in oven for 30 minutes. Cook quinoa according to instructions. Chop onion, garlic, and parsley, grate carrot, and slice mushrooms (I used an egg slicer). Heat 1 tbsp olive oil in a pot, and add garlic and the onion. After 1 minute add mushrooms, parsley and 1/2 cup stock. Cover. Check on squash, mix it around so all the sides roast. Now check on quinoa (multitasking saves a lot of time!), if cooked remove from heat. Mix the carrot into it and let stand. The mushrooms should be done after about 5-7 minutes, add quinoa and the rest of the stock. Mix around. Then add squash and gently mix with a wooden spoon, so you don't squish the squash. Place in a nice dish, and serve!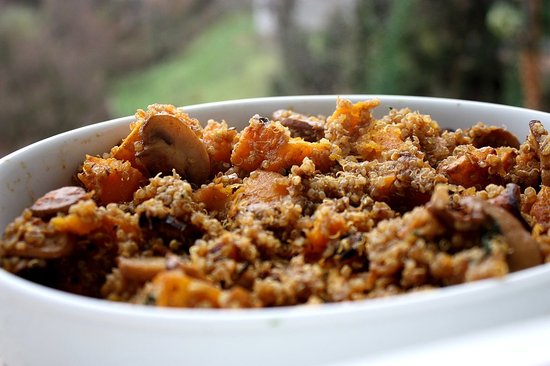 Information
Category

Main Dishes