Buy Premade Salads to Bring to Work
Smarter Eats: Buy Premade Salads at the Grocery Store For Lunch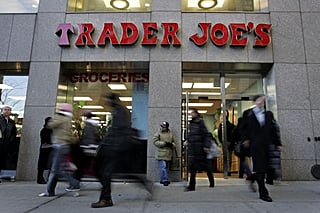 Of course you know that a healthy salad is a great workday lunch option . . . but time constraints and lack of available ingredients usually keep me from throwing one together at home to bring to the office. So I do what many urban office-dwellers do: pick up a veggie-filled salad from one of the many lunch establishments near the office. Eight dollars later I'm satisfied, but broke. This all changed yesterday, during a trip to Trader Joe's, where I finally caved and bought a handful of their prepared salads, a reduced-fat tuna Niçoise, an especially delicious Italian-style salad featuring white beans and shaved Parmesan, and a goat cheese and walnut option that's on deck for tomorrow. Each of my Trader Joe's salads sells for between $3 and $5, far more wallet-friendly than any deli on the block.
Since the FDA requires that all packaged and prepared foods carry nutrition labels, you can check out the ingredients and nutritional data for each salad (just make sure to factor in the dressing if it isn't included.) Check out what to look for in a premade salad after the break.
A salad full of veggies topped with lemon juice may fill your vegetable quota for the afternoon, but it won't keep you sated for very long. Look for salads that contain healthy fats like raw nuts, cheese, and olive oil based dressings help keep you full.
Creamy dressings are calorie bombs, but if you're in love with a salad that comes with a side of ranch, dip your fork in the dressing before you spear the veggies.
If chopped meat in a premade salad freaks you out, look for salads with beans, tofu, or hard-boiled egg. They'll still deliver a substantial amount of protein without the meat.
Check for freshness. Premade salads should contain a sell-by date like any other packaged food, but give it a once-over for starting-to-wilt lettuce or other past-their-prime veggies.
Premade or not, traditional salad rules still apply! Look for a rainbow of colors and limited add-ons like croutons.