C9 by Champion and Under Armour Fitness T-Shirt Review
What's Your Favorite Fitness Top?
A good workout shirt doesn't have to be expensive, but the perfect fit can be hard to find. So once I find one for me, I make sure to stock up.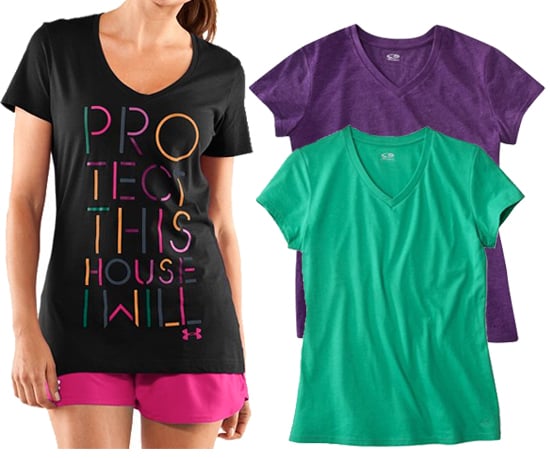 Lately I've had two specific t-shirts in constant rotation. The C9 by Champion Power Workout Tee ($10-$13) is the perfect all-around shirt for my gym trips. It's semifitted, which means I can move around a lot without having to deal with the shirt riding up, but it's not so tight that I feel restricted (I'm not a fan of fitted tops unless I'm in yoga class).
When I'm feeling flashier, Under Armour's semifitted graphic Ts do the trick ($19-$30). The t-shirts are perfect for anything from crazy cardio classes to my evening jogs. I love the length of the tee — long enough to look stylish under my post-workout jackets and flattering over black workout capris, plus the graphics are cute and motivational without being too obnoxious.
Since both of these shirts are relatively inexpensive while still offering technical details like comfortable seams and sweat-wicking fabric, they make the perfect everyday fitness top for most of my workouts! What's your favorite fitness top?