Calf Exercises
3 Moves For Sexy Sculpted Calves
You probably can't wait to get out of all those Winter clothes and into shorts, skirts, and dresses. But are your legs ready? Incorporate these three moves into your strength-training routine to sculpt sexy, gorgeous calves you can't wait to show off.
Wide Squat With Calf Raise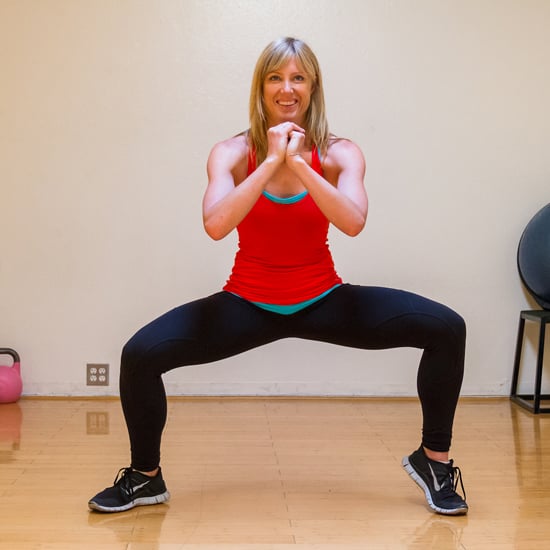 Stand with your feet about three to four feet apart, toes turned out. Bring your hands together in front of your chest and squat down so your thighs are parallel with the floor, knees over the ankles.
Raise your left heel off the floor and begin to pulse the hips up and down, isolating the left calf.
Continue pulsing for 30 seconds and then switch sides for another 30 seconds.
Repeat two more times on each side.
Squat Jumps

Begin in a squat position with the feet slightly wider than hips-width distance apart.
Push off the balls of the feet and take an explosive jump into the air, straightening the arms and legs.
Land softly, returning to the squat position.
Continue for one minute.
Mountain Climbers

Source: POPSUGAR Studios
Begin in plank position with the shoulders over the wrists.
Bring your right foot forward, bending the knee into the chest.
Quickly switch legs, bringing the left knee forward while moving the right leg back.
Continue switching from left to right for one minute, popping off the balls of your feet as if you're running in place in a plank position.