Calf Raises to Get Legs in Shape
Learn to Love: Calf Raises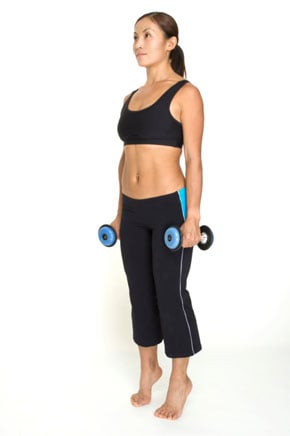 'Tis the season to show off your gams! Sure Summer is when we bare the most skin, but holiday soirees often mean dressing up and shimmying on a pair of stockings and heels. If you want to do some quick toning and defining, you can trust a few hardy sets of calf raises to help you out. The simple leg lifts are easy enough to do just about anywhere and will have you feeling (and looking!) sexy and svelte. And, in addition to the aesthetic benefits, they'll help get you ready for all those much-anticipated Winter sports.
A basic move, you will want to begin with your feet about four to five inches apart with toes aimed directly in front of you. Take two counts to lift your heels up in a steady motion. Lower down in two counts and repeat. A quick exercise, it's almost too easy to get carried away and do too many in one set; be careful to not overdue it as you may be too sore to walk the next day. Work your way up to higher counts by starting with 30 lifts. When you get comfortable, you can add on to your tally and even try different variations.
You may not love doing the leg lift exercises yet, but if you read up on some easy places to squeeze them in, you might find yourself addicted to them. Come check them out!
While brushing your teeth.
In the shower while your conditioner is working its magic, but don't slip!
In line at the grocery store.
Waiting on the bus or subway.
Pumping gas.
Stand up during commercials and give it a go.
At the end of your regular workout and before your stretches.
While blow-drying your hair.