Calories Burned While Gardening
Get Physical: Garden
I love gardening! It's a great way to spend quality time in the great outdoors and to play in the dirt, plus you can burn some serious calories. Gardening solo can be quite meditative, but getting the entire family involved in yard work is not only more fun, but it's way more productive— my girls love weeding and relocating the worms they find in the process.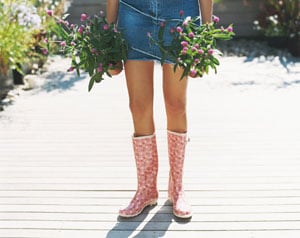 Here are a few similarities I see in gardening and gym time:
Digging holes and turning compost feels like lifting weights.
Raking feels an awful lot like a rowing machine with some added oblique work with that twisting.
Pushing a lawnmower is similar to walking on a treadmill but with added upper body work.
Pruning with loppers is a serious arm workout, especially when working overhead.
Weeding and squats seem like a match made in heaven — remember to bend at your hips and not round your low back!
Vigorous gardening for an hour burns about 300 calories (depending on your weight and how intensely you dig).
Do you garden? Tell me what you're planting. I just put in two raspberry bushes and am hoping for some sweet berries in Autumn.