Calories in Common Thanksgiving Foods
How Many Calories Are in a Typical Thanksgiving Dinner?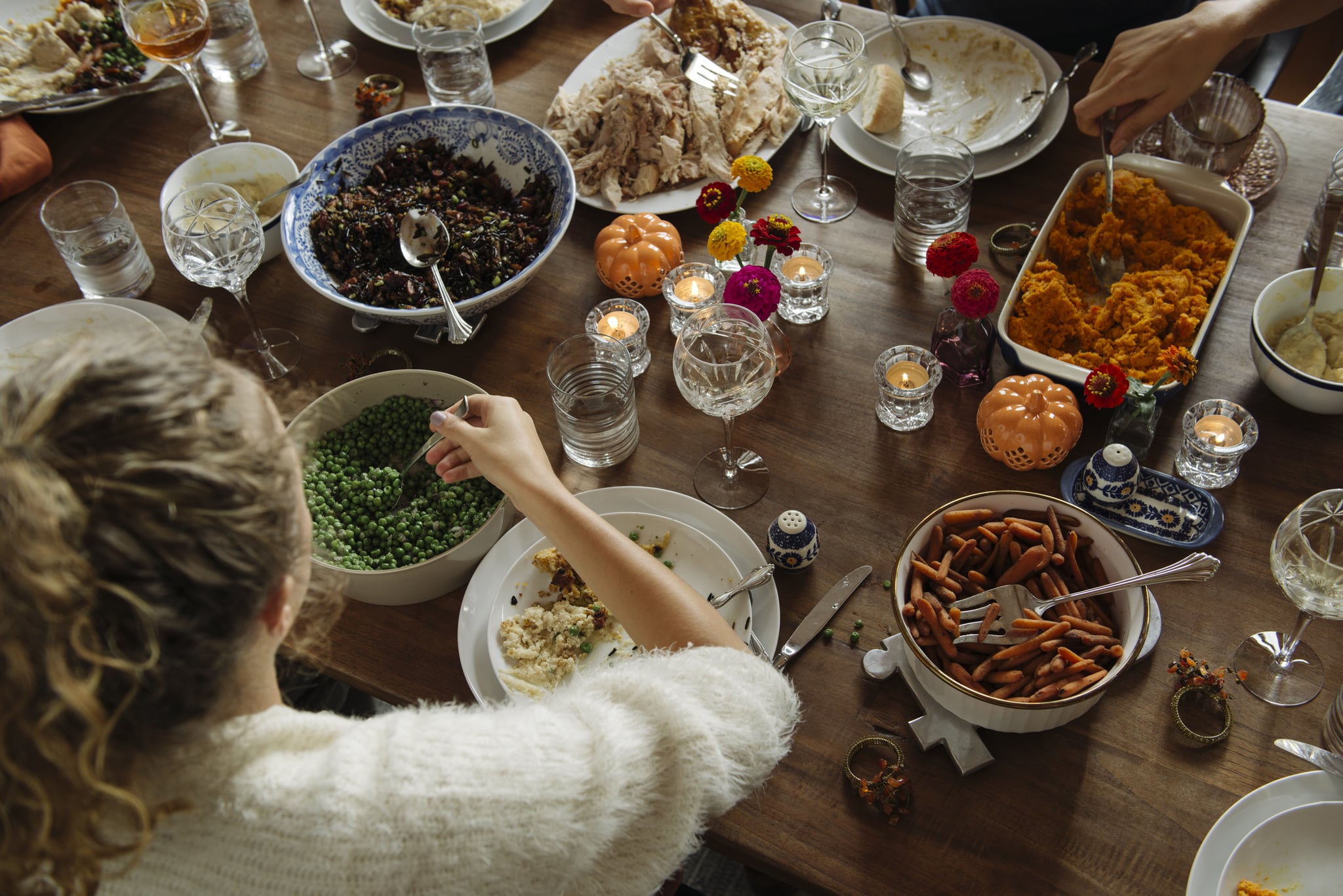 If you'd prefer to move forward with Thanksgiving totally oblivious to the nutritional facts in all your favorite foods, go right ahead. Although the notorious eating holiday is a wonderful occasion to enjoy delicious food and time with family or friends, you might still want to be conscious of the dishes you're eating, and that's OK.
Below, we broke down the typical Thanksgiving plate, just in case you wanted to know. Because every recipe is different and serving sizes can be hard to judge, keep in mind that this is just an approximation.
But before you scroll, a few reminders: Foods are more than just calories. Many traditional Thanksgiving dishes offer good-for-you nutrients. The green beans in that casserole, for example, provide protein, fiber, and potassium. Cranberries are a good source of antioxidants as well as vitamins C, E, and K. Even more importantly, if you enjoy it, that's worth something, too.
You don't need to do anything to earn your food, and you shouldn't feel guilty about enjoying this celebratory meal. (If you want to run a turkey trot, go ahead — just do it for fun, not to offset what you'll eat later.) And keep in mind that paying attention to calories or adopting a dieting mindset can fuel an unhealthy relationship with food and, in some cases, lead to disordered eating. If you're worried about how your Thanksgiving meal may affect your wellness goals, know that one meal is unlikely to derail you or ruin your progress. If you feel like you can't enjoy the meal because of the nutritional repercussions, consider talking to an expert like your doctor or a dietitian. (The National Eating Disorders Association (NEDA) also has resources available; call its 24/7 helpline at 1-800-931-2237 or text "NEDA" to 741741.)
With all that in mind, if you'd still like to know the calories in typical Thanksgiving dishes, you can find them below.
Turkey (3 1/2-ounce serving)
| Types of Meat | Calories | Fat (g) | Carbs (g) | Protein (g) |
| --- | --- | --- | --- | --- |
| White meat, no skin | 135 | <1 | 0 | 30 |
| White meat, with skin | 153 | 3 | 0 | 29 |
| Dark meat, no skin | 162 | 4 | 0 | 29 |
| Dark meat, with skin | 193 | 7 | 0 | 29 |
Stuffing (1 ounce, dry)
| Calories | Sugar (g) | Fat (g) | Carbs (g) | Protein (g) |
| --- | --- | --- | --- | --- |
| 108 | 2 | 1 | 20.7 | 3 |
Mashed Potatoes (1 cup)
| Calories | Sugar (g) | Fat (g) | Carbs (g) | Protein (g) |
| --- | --- | --- | --- | --- |
| 237 | 3 | 8.8 | 35.5 | 4.2 |
Mashed Sweet Potatoes (1 cup)
| Calories | Sugar (g) | Fat (g) | Carbs (g) | Protein (g) |
| --- | --- | --- | --- | --- |
| 258 | 1.9 | 0.4 | 9.9 | 2.4 |
Green Beans (1 cup)
| Calories | Sugar (g) | Fat (g) | Carbs (g) | Protein (g) |
| --- | --- | --- | --- | --- |
| 44 | 13.9 | 0.5 | 59.2 | 5 |
Corn (1/2 cup)
| Calories | Sugar (g) | Fat (g) | Carbs (g) | Protein (g) |
| --- | --- | --- | --- | --- |
| 60 | 5 | 0.5 | 11 | 2 |
Cranberry Sauce (1/4 cup)
| Calories | Sugar (g) | Fat (g) | Carbs (g) | Protein (g) |
| --- | --- | --- | --- | --- |
| 110 | 24 | 0 | 28 | 0 |
Gravy (1/2 cup)
| Calories | Sugar (g) | Fat (g) | Carbs (g) | Protein (g) |
| --- | --- | --- | --- | --- |
| 60 | 0.25 | 2.5 | 6 | 3.1 |
Dinner Roll (1 ounce)
| Calories | Sugar (g) | Fat (g) | Carbs (g) | Protein (g) |
| --- | --- | --- | --- | --- |
| 87 | 1.6 | 1.8 | 14.6 | 3 |
Pumpkin Pie (1 slice)
| Calories | Sugar (g) | Fat (g) | Carbs (g) | Protein (g) |
| --- | --- | --- | --- | --- |
| 316 | 21 | 14 | 40 | 7 |
Pecan Pie (1 slice)
| Calories | Sugar (g) | Fat (g) | Carbs (g) | Protein (g) |
| --- | --- | --- | --- | --- |
| 503 | 31 | 27 | 63 | 6 |
Image Source: Getty Images / The Good Brigade