Calories in Dairy-Free Milk
How to Choose the Best Dairy-Free Milk For You
Whether you're avoiding cow's milk for health or moral reasons, there are tons of dairy-free beverages to pour over your bowl of cereal. Not sure which is the best choice? Check out the chart to see how milk alternatives compare to cow's milk, and then read the explanations below to see why you might want to choose one over the other.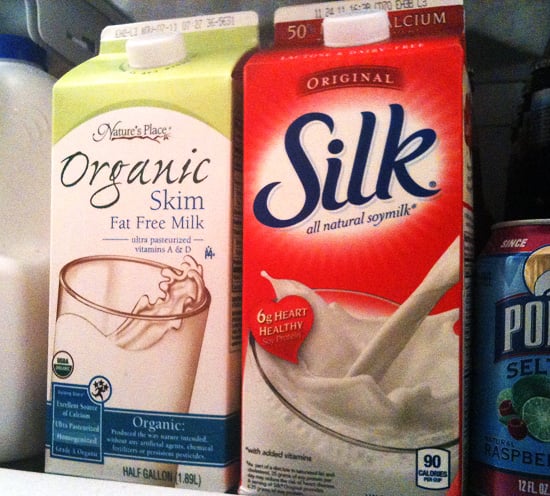 1 cup
Calories
Total Fat (g)
Chol. (mg)
Carbs (g)
Fiber (g)
Sugars (g)
Protein (g)
Calcium (mg)
Skim Milk
90
0
5
13
0
12
8
300
1% Milk
110
2.5
10
13
0
12
8
300
2% Milk
120
3.5
15
12
0
12
8
300
Whole Milk
150
8
35
12
0
11
8
300
Plain Almond Milk, Unsweetened
30
2.5
0
0
0
0
1
450
Vanilla Almond Milk
90
2.5
0
16
0
16
1
450
Plain Cashew Milk, Unsweetened
25
2
0
1
0
0
0
450
Vanilla Cashew Milk
80
2.5
0
14
0
12
0
450
Plain Coconut Milk, Unsweetened
45
4.5
0
0
0
0
0
450
Vanilla Coconut Milk
90
5
0
10
0
9
0
450
Plain Hemp Milk, Unsweetened
70
5
0
1
2
0
3
300
Vanilla Hemp Milk
160
5
0
24
1
16
3
500
Plain Rice Milk, Unsweetened
90
2.5
0
15
0
0
0
300
Vanilla Rice Milk
130
2.5
0
26
0
12
1
300
Unsweetened Soy Milk
80
4
0
4
2
1
7
300
Vanilla Soy Milk
100
3.5
0
10
1
8
6
300
Plain Oat Milk
130
2.5
0
24
2
19
4
350
Vanilla Oat Milk
130
2.5
0
25
2
20
4
300
Almond milk: Holy low in calories! This is a great option if you're trying to lose weight or watching your soy intake, but aren't concerned with protein or calcium. It's also one of the sweetest and creamiest of all the dairy-free beverages, so if taste is important to you, this might be your best option.
Coconut milk: Similar to skim milk in terms of calories, coconut milk contains much more fat. But if you're concerned with calcium, Silk Pure Coconut Milk contains 45 percent of your RDI — skim milk only has 30 percent. This beverage is also very creamy and adds an exotic flavor to your basic bowl of cereal or breakfast smoothie.
Hazelnut milk: Another smooth and creamy milk, it's slightly higher in calories and doesn't contain much protein. What it has going for it is its interesting nutty flavor — great in a cup of joe or baked goods. Plus it offers one gram of fiber per serving, and every little bit helps.
Hemp milk: If you're not worried about fat, enjoy a cool glass of creamy hemp milk. It doesn't contain tons of protein, but does offer you the same amount of calcium as skim milk. Plus, hemp seeds offer a well-balanced ratio of omega-3 and omega-6 essential fatty acids, and if you're trying to avoid soy, hemp milk is a great alternative.
Oat milk: Did you even know they made milk out of oats? This lactose-free beverage is higher in the calorie department than the rest, offers half the amount of protein as skim milk and is a great source of calcium. And get this — it even offers two grams of fiber per serving.
Rice Milk: This dairy- and soy-free alternative is the closest to the thin consistency of skim milk, so if that's important to you, choose rice milk. It does leave a slightly grainy aftertaste. One cup offers the same amount of protein as skim milk, although if you're watching your calorie intake, this might not be the best choice.
Soy Milk: This is probably one of the easiest dairy-free beverages to find, and, taste-wise, this is probably one of my favorites. It's slightly sweet, creamy, and for about the same amount of calories offers almost half your RDI of calcium in just one cup. If you're vegan and eating tons of other soy products, you might want to choose a different soy-free beverage.
Rice & Soy Milk: If you're cutting back on soy products, but love the taste of a thicker soy milk, here's an alternative for you. It's pretty high in protein but lacks in calcium, so if that's a deal-breaker, you might want to skip this dairy-free milk.
7 Grains: Low in sodium, but high in calories and carbs, this milk is made with oat bran, rice, triticale, wheat, barley, spelt, and millet, so it offers an interesting flavor and creamy consistency. It's definitely not an option for you if you're avoiding wheat or gluten.
Which dairy-free beverage do you drink most often? And why?