Calories in Girl Scout Cookies and How to Beat the Cookie Craving
If You're Craving Girl Scout Cookies, Try These Instead
It's Girl Scout Cookie time! Noshing on these fund-raising treats seems like an American pastime, but it can be challenging to keep a snack session of these seasonal sweets in check. If you can enjoy your cookies in a reasonable manner, then good for you! But if you're looking for a way to scratch that sugary itch without killing your healthy eating agenda, here are some healthier alternatives.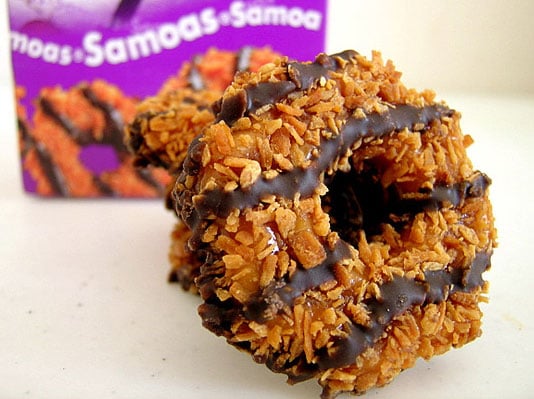 Do-Si-Dos
Two-cookie serving: 120 calories, five grams of fat, seven grams of sugar
Quick Fix: The Larabar Peanut Butter Cookie is a perfect substitute since it's so filling — I usually only eat half of a bar at a time. One bar contains 220 calories, seven grams of protein, and four grams of fiber. Made out of dried dates, one bar equals one half serving of fruit. There are 18 grams of sugar in this bar, but the sugar content is not added; it naturally occurs in the dates. The other two ingredients in this bar are peanuts and salt.
DIY Fix: Make your own tasty peanut butter treat! Blend a little peanut butter, apple sauce, and raisins for a sweet, satisfying, and nutritious homemade spread. Two tablespoons of this peanut butter raisin spread offers almost five grams of protein and two grams of fiber.
Don't see your fave cookie? Keep on reading!
Lemon Chalet Cremes (Lemonades)
Two-cookie serving: 160 calories, six grams of fat, 12 grams of sugar
Quick Fix: Try a ThinkThin Lemon Cream Pie Protein Bar. It may have 200 calories, but it offers 15 grams of protein, too. With only seven grams of fat, this bar has no added sugar, but relies on sugar alcohol to create its sweetness.
DIY Fix: When you bake for yourself, you can control the ingredients. Try these slimmed-down lemon squares that are lower in sugar and fat than traditional lemon bars and better for you than a handful of cookies.
Samoas (Carmel deLites)
Two-cookie serving: 150 calories, eight grams of fat, and 11 grams of sugar
Quick Fix: Try a Chocolate Dipped Coconut Luna Bar instead. I was shocked how much the flavor of this bar reminded me of the cookie. The bar has 190 calories, nine grams of protein, and 11 grams of sugar. It's fortified with essential vitamins and minerals, too.
DIY Fix: Make your own coconut, almond, and granola bars. They're the perfect combo of crunchy and chewy. These bars are also chock-full of healthy fats!
Tagalongs (Peanut Butter Patties)
Two-cookie serving: 150 calories, 10 grams of fat, eight grams of sugar, and two grams of protein.
Quick Fix: Reach for a Peanut Butter Dark Chocolate KIND Bar. The chewy, nutty bar provides seven grams of protein and thee of fiber. This bar does have 200 calories, though, along with 10 grams of sugar, but you'll be eating a mix of real nuts: peanuts, almonds, walnuts, and cashews.
DIY Fix: A peanut butter smoothie made with chocolate soy milk makes for a nutritious protein-filled snack. Here's a simple PB, chocolate, and fruit smoothie.
Thin Mints
Four-cookie serving: 160 calories, 10 grams of sugar, eight grams of fat, only one gram of protein
Quick Fix: Try a Mint Chocolate Chip Luna Protein bar to satisfy your craving. This bar may contain 20 more calories than those four cookies, but one of these bars will actually keep you feeling full. It has 12 grams of protein, six grams of fat, plus 15 percent of your daily requirement for calcium and hard-to-get vitamin D. Snacker be warned, this bar does have a fair bit of sugar — 13 grams.
DIY Fix: Make a diary-free, low-sugar mint chocolate shake. Our recipe features sugar-free ice cream made with coconut milk, and it clocks in at only 136 calories per serving.
How do you deal with your Girl Scout Cookie cravings? Do you cave in or do you have self-control? Tell us in the comments section below.
Source: Flickr User jamieanne