Calories in Pumpkin Seeds, Chia Seeds, Sunflower Seeds, and Flaxseeds
The Healthiest Seeds to Snack On
Stop going nuts, and turn to seeds! Just like nuts, seeds are full of protein and fiber and will give you an energy boost when snacked on throughout the day. Here are five types of seeds that are delicious and good for you.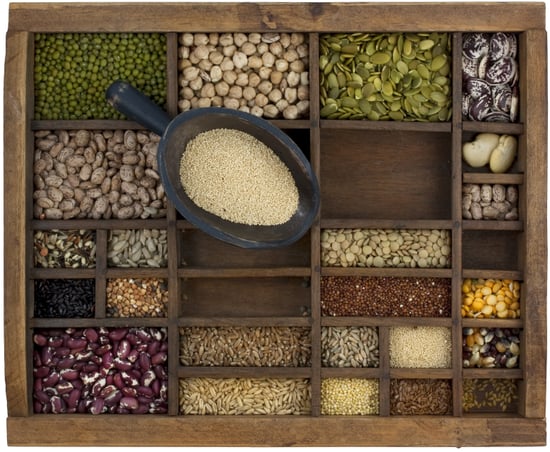 Pumpkin seeds: Pumpkin seeds aid in lowering cholesterol, promote good prostate health, and are high in plant sterols and phytochemicals. And they're a good source of not only protein and fiber, but also potassium and magnesium. Here's a recipe on how to roast them to perfection.
Chia seeds: Chia seeds are high in omega-3 fatty acids, protein, fiber, and calcium. Throw them in your cereal, oatmeal, yogurt, muffins, or smoothies, or add them to a salad or potatoes. Try chia in any of these chia seed recipes.
Learn more about other healthy seeds and see their full nutritional breakdown.
Flaxseeds: Flaxseeds have omega-3s in them to help reduce inflammation; they are known to lower total cholesterol and LDL cholesterol levels; they may lower blood pressure; and lignans, the fibers found in flaxseed, promote regular digestion and are thought to have a role in breast cancer prevention. Sprinkle flaxseeds on your cereal or oatmeal, or grind them up and include them in baked goods and recipes. Try this Banana Yogurt Walnut Muffins recipe, or make these delicious Apple Oatmeal Flax Cookies.
Sunflower seeds: Just a handful of sunflower seeds contains significant amounts of magnesium, selenium, and vitamin E — a vitamin that protects the cells against free radicals and inflammation. Try throwing some in your next pesto recipe!
Hemp seeds: Not only are hemp seeds nutritious, but also, they contain all the essential amino acids (they're a complete protein) and are an excellent source of the fatty acids that lower cholesterol and prevent heart disease. Hulled hemp seeds have a nutty flavor and creamy texture when chewed. Eat them by the handful, sprinkle them on salads, or put a spoonful in your oatmeal.
Here's a full nutritional breakdown of each seed discussed above:
— Additional reporting by Emily Bibb