Calories in Store-Bought Smoothies
Calories in Summery Smoothies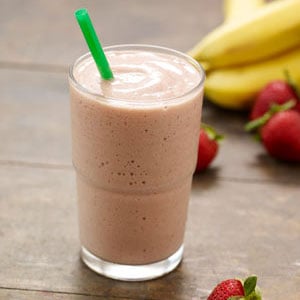 It's a hot and humid Summer day and you head to your local smoothie joint for a cool, refreshing smoothie. It's made with mostly all-natural fruit, ice, and a little dairy, so what could be bad? That tall glass of thick, fruity goodness might taste like it's good for you, but the amount of calories you're consuming will most definitely stop you midslurp. Check out the breakdown below and see how your favorite smoothie stands.
Keep in mind that these calculations are based on 16-ounce servings, and many places serve up your smoothie in a much taller cup, which means even more calories and carbs consumed.
Not seeing your favorite smoothie? Keep reading to see the nutritional info for smoothies found at Starbucks, McDonald's, and Jack in the Box.