Calories in Sweet and Regular Mashed Potatoes
Sweet vs. Regular Mashed Potatoes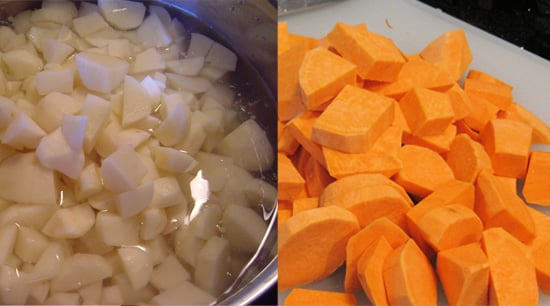 Thanksgiving dinner is not usually a time when you're paying attention to your waistline, except perhaps afterward, when you're thinking your waistband feels a little too tight. But in case you're planning a healthy menu and want to know how to serve the mashed potato side, I checked out the difference between one cup of mashed potatoes made with whole milk and margarine vs. a cup of sweet mashed potatoes (of the canned variety).
Want to see how these Fall dishes stack up against each other? Read on for the stats.
Mashed potatoes made with whole milk have tons more fat than sweet mashed potatoes, but using low- or fat-free milk instead will slash some of that. You can also make mashed potatoes healthier by using Yukon Gold potatoes; these potatoes are naturally creamy and sweet, and their skins taste like butter, which means you don't have to add any!
Sweet mashed potatoes, of course, contain a lot of sugar, meaning that their carb levels are higher than the regular stuff. Even if you shun the canned products, many recipes for homemade sweet mashed potatoes call for the addition of sugar, honey, or syrup, but luckily YumSugar has you covered with this savory mashed sweet potato recipe! And don't forget, sweet potatoes have lots of other nutritional benefits. They will make your blood sugar levels rise less than eating regular potatoes, and are rich in beta-carotene and vitamin C.
Decide for yourself what's more important for your diet, and then get ready for your Thanksgiving feast!