Can Artificial Sweeteners Help You Lose Weight?
Do You Use Artificial Sweeteners?
Which is worse for you: a spoonful of sugar or a packet of sweet-tasting powder that was made in a lab? A new opinion by the American Heart Association and the American Diabetes Association says that those artificial sweeteners can be a good option if you are trying to lose weight or control your blood sugar — as long as you use them in moderation.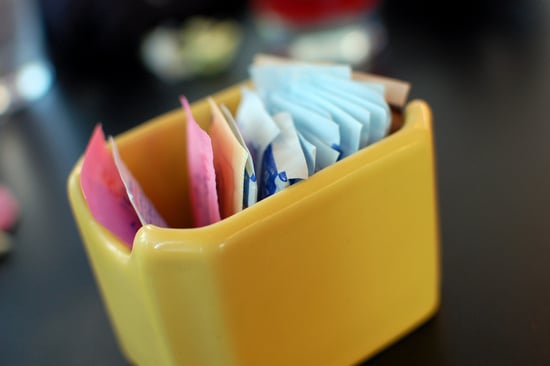 The statement, published in both Diabetes Care and Circulation, says that using artificial (or "nonnutritive," since the category includes natural options like stevia) sweeteners instead of real sugar can be a useful strategy if you are trying to lose weight.
And while using artificial sweeteners sparingly may help you cut calories, one problem with these nonsugar alternatives is that they can cause even more sugary cravings, since they trick your brain into craving more of the real thing. So while the ADA and AHA champion artificial sweeteners as one way to lose weight, both caution against using them too much or developing a habit of eating sugary foods later on in the day to reward yourself for skipping out previously. The ADA and AHA also warn to not treat your artificially sweetened foods as healthy — even if they don't contain as many calories as a sugary dessert, they still aren't good for you.
Check out our comparison of artificial sweeteners here and tell us: do you use zero-calorie sweeteners or do you stay away from them?
Source: Flickr User Steve Snodgrass