Can I Eat Pasta on a Diet?
Mangia, Mangia! Eat Pasta and Still Lose Weight
Rotini, linguine, fettuccine, and ziti — you don't care what shape it is, you love noodles. Pasta has gotten a bad reputation since it's high in carbs, but don't fear the farfalle. You can enjoy pasta and still reach your weight-loss goals — just follow these tips.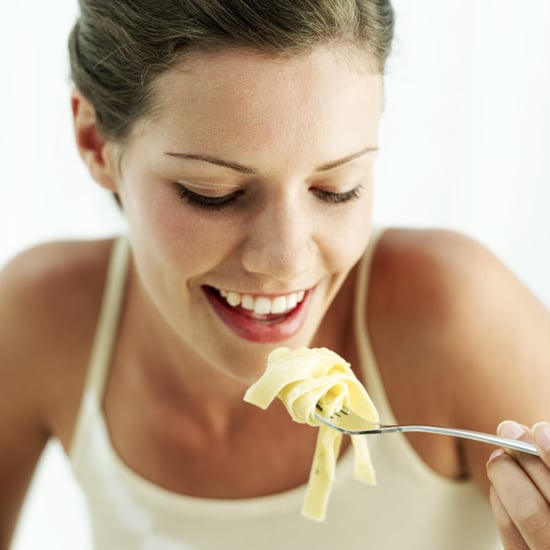 Choose whole wheat: Aside from having slightly fewer calories, whole wheat pasta contains more fiber and protein than traditional pasta.
Measure out portions: Italian restaurants tend to offer generous mounds of pasta, but aim to eat a one-cup serving, which is about 200 calories.
Skip creamy sauces: Butter and cheese can easily double the calories of a pasta dish; dress noodles in a white wine or red sauce instead.
Limit the cheese: Cheese adds protein, but it can quickly pack on the calories and the fat. You don't have to forgo cheese altogether — just limit the amount. Keep in mind that a half-cup serving of ricotta is 214 calories while a tablespoon of grated parmesan is only 21 calories. Instead of choosing a cheese-filled recipe, sprinkle some over your finished dish.
Add tons of veggies: Don't just eat an enormous bowl of spaghetti. Go for a veggies-to-pasta ratio of 2:1. Veggies are much lower in calories than pasta and filled with important nutrients like fiber, vitamins, and antioxidants.
Add lean protein: Beans, chicken, and turkey complement pasta beautifully, and these ingredients tend to be lower in calories than pork sausage or beef. Adding protein to a pasta bowl will fill you up and keep your energy going strong so you're less likely to feel logy after your meal.