Canoeing Tips and How To
Fun in the Sun: Canoeing 101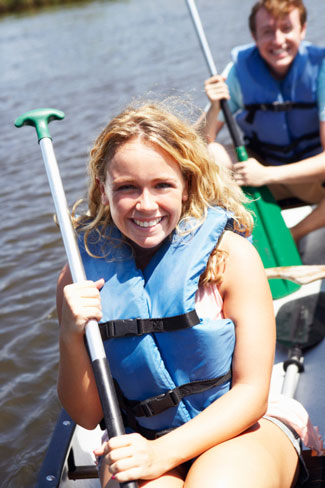 I recently joined some friends on a three-hour canoeing trip down California's Russian River, and boy, was it a great workout. I'm by no means a canoeing expert — we rented old-school metal canoes from a local business — but it's an easy and fun activity to learn.
For a 130-pound woman, one hour of canoeing burns more than 200 calories. It's a great workout for your arms, lats, and shoulders, and you'll work your abs as you focus on sitting up straight.
You can have some fun and enjoy a guilt-free beer when you're done. If you want to add canoeing to your list of Summer sports, here's a little primer to get you paddling. Keep reading.


Get educated. If you're serious about canoeing, consider taking a class. Though basic canoeing is fairly easy, the more you understand the subtleties, the easier it will be.
Life jackets required. Laws differ from state to state, but life vests may be required. Even if they aren't, don't head down the river without one.
Bring only what you need. That includes water, sunscreen, snacks, an extra layer of clothing, a first aid kit, and a cell phone or cash in case of emergency. Loading up with extra stuff only means more that can go rushing down the river if your canoe tips. Consider investing in a water-tight dry bag, or just use Ziploc bags or Tupperware.
Put experience first. The person at the back of the canoe is responsible for most of the steering, so put the more experienced or stronger paddler in the rear.
Get a grip. To begin paddling, grip the top handle with one hand and hold the throat of the paddle with your other hand. The top hand steers, while the lower arm generates most of the power. Remember to sit up straight.
Know the moves. For a basic forward stroke, raise the paddle out of the water and bring your top hand at or above head level so that the paddle is nearly vertical. Push your bottom hand forward to reach the paddle toward the front of the canoe. Keep the face of the paddle perpendicular to the movement of the stroke, and pull the paddle straight along the side of the canoe.
Use your body. Don't just rely on your arms. Use your torso and the rotation of your body to power your stroke. Switch sides frequently so one side doesn't get too tired.
Of course, canoeing gets more complicated than this, depending on where you're paddling and what you want to do. But for your first time down the river, these tips should get you on your way. Got your own? Add them in the comments below.