Canyon Ranch Yoga DVD Review
DVD Review: Canyon Ranch Yoga For Strength and Energy
For anyone who's dreamed of a wellness retreat at the luxurious Canyon Ranch in Arizona, here's a quick escape that might be more suitable for your budget. The Canyon Ranch Yoga For Strength and Energy DVD ($17) focuses on toning and elongating muscles while rebooting and clearing your mind.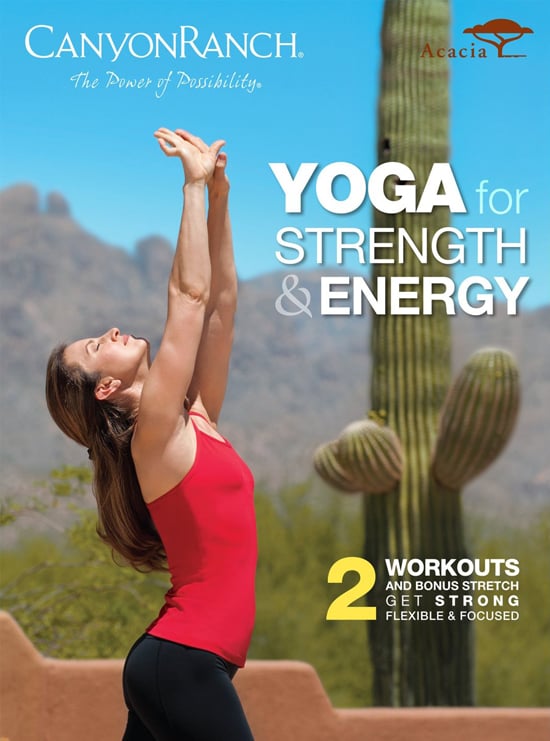 The majority of the DVD is made up of two 20-minute yoga workouts, plus an 11-minute cooldown stretch sequence, all set against a picturesque outdoor Arizona backdrop. As an added bonus, there are also tips from the Canyon Ranch team of medical, behavioral, and nutrition specialists.
The first sequence on the DVD is by no means an active flow to make you sweat. The Energy Stretch instead focuses on giving the body extra love through the power of yoga postures. It would be perfect for a runner or athlete who isn't necessarily interesting in taking an hour-long Vinyasa class but who wants to enjoy a long, leaded stretch.
Once the second sequence began, I was thrilled that the Energizing Yoga Flow started off building internal heat before moving through more difficult postures — something I look for in any quality yoga class. I also appreciated the level of instruction and careful attention to detail that the instructor, Yvette, offered throughout the practice. Her melodic, soothing voice kept on gently reminding me to "tuck your navel in . . . allow breath to flood through your body . . . fire up your core." There was nothing pretentious or intimidating about this yoga expert. She simply offers quality instruction, apparent knowledge, and good energy that I vibed with, even through the screen.
The cooldown was simple, relaxing, and full of the classic restorative postures I was craving. This blissed-out sequence would suit someone feeling a little stressed out or frenzied after work or who wants something for right before bed. Yvette's calming voice and kind, thoughtful words really hit the spot, leaving me with a calm, cool, and collected demeanor that carried through the rest of my day.
Advanced yogis will appreciate the ability to flow comfortably without looking at the screen every second, while beginners will appreciate the lack of technical language or Sanskrit names — there are plenty of options depending on your skill level. Anyone looking to build a steady home practice would benefit from taking this quick DVD trip to Canyon Ranch.