Cardio Circuit Workout to Burn 250 Calories
Too Cold to Run? Burn 250 Calories With This 30-Minute Circuit
When it's too chilly to even imagine donning all the layers needed to run outside, you need a simple indoor workout to fall back on that will get your heart rate soaring and work your entire bod.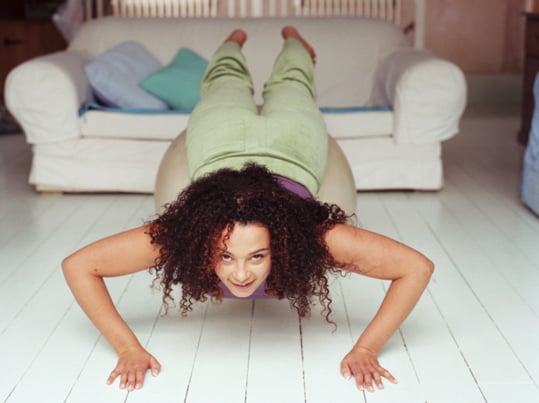 Here's a five-minute circuit workout you can do at home using set of stairs, a jump rope, and an exercise ball. If your house or apartment is only one floor, just use a sturdy low bench in place of the stairs. No jump rope on hand? Use your imagination and pretend; just jump in place without it. Using the exercise ball for push-ups and crunches makes these two moves more challenging, but if your home gym doesn't have one, just do those exercises on the floor. Crank up your favorite workout tunes and keep an eye on the clock, repeating this circuit one time through:
One minute walking up and down the stairs: 8 calories burned
One minute strength training (30 seconds push-ups, 30 seconds crunches): 5 calories burned
One minute jumping rope: 11 calories burned
One minute skipping around your house: 10 calories burned
One minute fast-paced jumping jacks: 8 calories burned
Total calories burned per round: 42
Repeat this five-minute circuit five more times for a total of six rounds and you'll burn 252 calories. This indoor circuit can be done at home, in a hotel room when traveling, or even at the gym (if you don't feel silly skipping in public!).