Cardio Trampoline Class Review
Class Act: Jump Into an Air Conditioning Trampoline Workout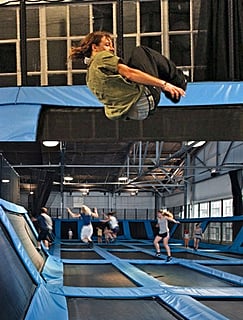 Inspired by the fact that I'm typically the adult that won't get out of the bounce house at kids' birthday parties and jumping reviews of San Fransisco's trampoline park House of Air, I recently expanded my fitness routine's heights with an Air Conditioning trampoline class.
The park touts the class as the "most exciting workout you can get in public," so my workout buddy and I went in with sky high expectations. Would we learn tricks? Would we jump barefoot? Would we sweat? In short: Oh yes. Oh no. Oh yes! The class, which costs $16 for a single, one-hour session and $144 for a pack of 10 sessions, was held in House of Air's Matrix — a giant jumpy field of 42 conjoined trampolines. There were about 20 people in the 7 a.m. class (two guys and the rest all women I'd put in the 25 to 35 demo), and after slipping on special house-provided wrestling shoes, we spread out into personal trampoline areas. Where did we go from there?
After a few minutes of trampoline warm up, our instructor led us through typical cardio class stretches (to "get the joints juicy" as she said). We then moved into a circle for some ball play, where we focused on dribbling a spongy 10-inch diameter ball under our legs and passing the ball on to a fellow bouncer. I had an unusually good time getting my heart rate up while in the atypical workout mode of bouncing, giggling, sweating, and smiling all at once, but my hand-eye coordination is weak at best, so the ball play was a bit frustrating. I momentarily felt judged for missing the ball, but I quickly bounced back, remembering it was all for fun. After the intense dribble, jump and pass routine, we did about 15 minutes of a "I'm going to grandma's house"-type exercise where each person added a piece of trampoline choreography. Here's the kicker: when someone forgot the last move, we all had to do push-ups. Thankfully, push-ups on a trampoline are much easier than the ground, so no one complained. We followed up the bootcamp-y bonding time with some focused conditioning in the form of sit-ups, lunges, donkey-kicks, intense drills up and down the court, some more ball work, and a cool down, and final stretch. The instructor did a fine job demonstrating the moves (trust me, lunging on a trampoline is a whole new world) and reminding us to work our core with every move.
At the end of the class, I was energized but worn out and ready for a shower. The intensity, workout, and overall sweat level mirrored a spinning class. My lower back and core were both a bit sore the next day, but nothing felt strained. It was enough fun that I'm considering working it into my monthly routine. Have you tried an air conditioning or trampoline class? Share your opinion and experience below
Photo courtesy of House of Air