Caring For Gym Supplies
Don't Just Dump Your Gym Bag When You Get Home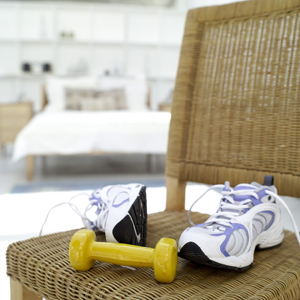 After a long day of working and working out, you may want to dump your gym stuff as soon as you walk in the door. But taking time to keep your equipment organized and clean can help extend a product's life and also keep you more enthusiastic about the next day's workout. Here are some tips to storing your workout items.
Take your gym shoes out of your bag for a bit to air them out. Loosen the tongues and the laces to help them breathe.
If you use small hand weights at home, clean them regularly to prevent cracks and dirt buildup, and keep your weights on an uncluttered floor or in a box to prevent trips.
Like any other bag, gym bags will keep their shape and last longer if you don't hang them. Place yours on an uncrowded and dust-free shelf.
In addition to the wipe down, storing your yoga mat spread out instead of rolled can keep it mildew free.
Don't forget that storing all of these items where you can see them can help motivate you to work out the next day!