Carrie Underwood Covers Women's Health: Diet, Staying Healthy on Tour, Kettlebells
Carrie Underwood in Women's Health: "I Love Pasta and Pizza — Oh, Buddy!"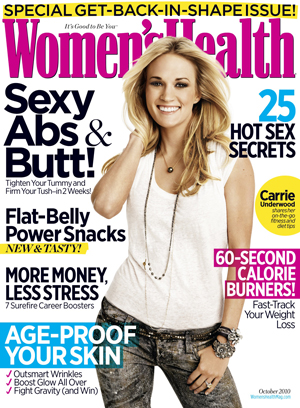 Carrie Underwood has always come across as a fit and healthy gal — even before making it big. She works hard with trainer Tony Greco and maintains a really healthy diet — she even resists the temptation to dine out! Keeping all of this in mind, it's no wonder that Women's Health would choose Carrie as its October cover model. She's celebrating life as a newlywed while prepping for her new tour yet somehow manages to look amazing through it all! Here are the highlights:
Why she loves working out: "There's just something sexy about feeling strong."
On keeping fit while on tour: "A lot of stuff happens in the afternoon, so I can get up and have a workout, which makes me feel awesome for the rest of my day."
On using kettlebells: "They don't take up much space and work out a lot of different muscles."
On maintaining healthy diet: "Once you get into a routine of eating healthy, it hurts twice as much when you fall off the wagon, but it's nice to have a few bites of something you like . . . If I'm on the road, I'll get oatmeal. There are low-sugar kinds that are easy to fix. At home, I'll have an English muffin with some I Can't Believe It's Not Butter! spray — my favorite!"
Her food vices: "I'm not a sweets person, but I love pasta and pizza — oh, buddy!"
Her food rules: "Figure out a way to take foods I like and make them healthy . . . I try to stay away from carb-y things at dinner."