Celeb Trainer Valerie Waters Says Get Up and Work Out
Valerie Waters Says "Wake Up and Work Out"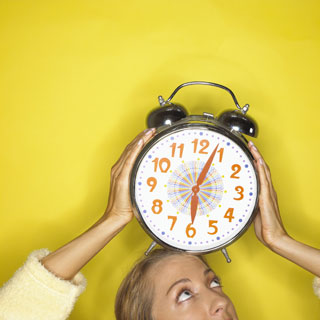 Working out in the morning is always difficult for me, and even more so with the sun rising an hour later thanks to daylight saving. Due to my mom duties, I cannot take advantage of the extra evening light, so mornings it is.
After talking to celeb trainer Valerie Waters, I am more inspired to set my alarm, and then get up and go, for simple non-fitness reasons. On the topic of morning workouts, she told me,


"I believe that exercise makes you feel better. It makes you feel more confident and relaxed. If you exercise in the morning, you tend to be more aware of food intake throughout the day."
I heard this little snippet run through my head after turning off my alarm this morning. Rather than roll over and snooze, Val's voice helped motivate me onto the elliptical downstairs. Since I want whatever calories I burned before dawn to have an impact, I abstained from the sugar cookies making the rounds at Sugar Inc. and snacked on fruit and nuts instead. Thanks Val!