Change Up Your Long Training Runs to Prevent Injuries
Run Your Route Backwards! And Other Ways to Vary Training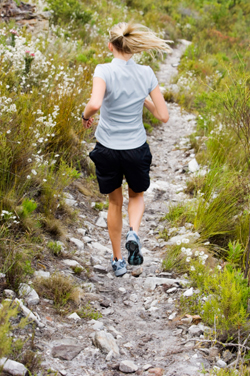 Whether you're training for a race, upping your mileage, or just staying in shape with long runs in the park or around the neighborhood, it's easy to get stuck in a route rut. I find it hard to switch up my route, especially if I'm doing an early morning run. It's simple, mostly flat, and I know exactly how far I'm running every time. After a few weeks of five-mile morning runs around the park near my apartment, I started experiencing some serious pain in my right knee. I've been through the ringer with IT band issues in the past, and the recent flare-up did nothing for my training or my positive attitude. It wasn't until after my orthopedist asked about my daily runs around the park that I realized running the same route every day was actually hurting me. The tiny, almost-imperceptible downgrade of the road toward the curb meant that I was constantly running on an uneven surface without realizing it. The doctor suggested I switch up my park run by running the opposite way every other time, and in about a week, I was pain free! And as it turns out, switching directions of a run isn't the only thing you should be changing up each time you hit the road. To find out how a little variation can go a long way,
.
Your body gets bored, too. It's not just your mind that suffers from boredom when you do the same thing day after day. Your body will quickly get used to the same cardio routine and you'll hit a plateau, which means fewer calories burned per workout.
Running up a hill is incredible conditioning. Part of the reason I enjoyed my clockwise park run was because it minimized the uphill battle toward the end of the run. But running hills increases your heart rate and helps prevent stuck-in-a-rut route boredom.
Cross-training can be fun! When I was training for a long race I was so focused on the long runs, short runs, fast runs, and slow runs that I didn't cross-train, and I suffered through a long race with a weak core. Try Pilates to increase core muscle strength; your posture will improve and so will your running form. Plus, you'll notice those hills getting a lot easier!