Change Your Toothbrush If You Have a Cold
Health Tip: Toss Your Brush and Cold Away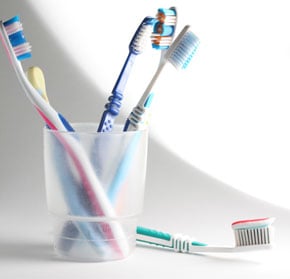 I hate to say it, but it's cold season. Yours truly has already succumbed to the scratchy throat, runny nose, and deep coughing that is sure to drive those around me crazy. Not one to get too down on the negatives, I found a silver lining in this cold of mine. A trip to the doctor was productive on two counts — I got a prescription for my nasty hack, and I got a useful tip from my doctor worth sharing.
When illness strikes, it's time to toss the toothbrush. The sickly germs will be better suited for the trash can than your mouth. An infected toothbrush makes it all too easy to make yourself sick again. Besides that, we're advised to change our bristles every three to four months anyway, right?
Do you change your toothbrush when you're not feeling well?